Ultimate Guide to Halloween Marketing for Your Business
Sena Özkurt
Content Marketing Specialist
Get ready for the spooky season! As Halloween is approaching, businesses can begin preparing for Halloween-themed marketing campaigns to drive traffic, sales, and customer interest toward your business.
Traditionally observed on October 31, especially in Ireland, Scotland, the U.S., and Canada, Halloween is an important shopping period for those looking to enjoy the Halloween spirit (maybe literally?), and for e-commerce websites looking to make a hauntingly successful impact on their audience during Halloween.
Most consumers start purchasing as early as the beginning of September to the middle of the month and throughout October.
If you want to help your customers have a delightful shopping experience during the Halloween season using your e-commerce website, this article on Halloween marketing will assist you on your planning journey.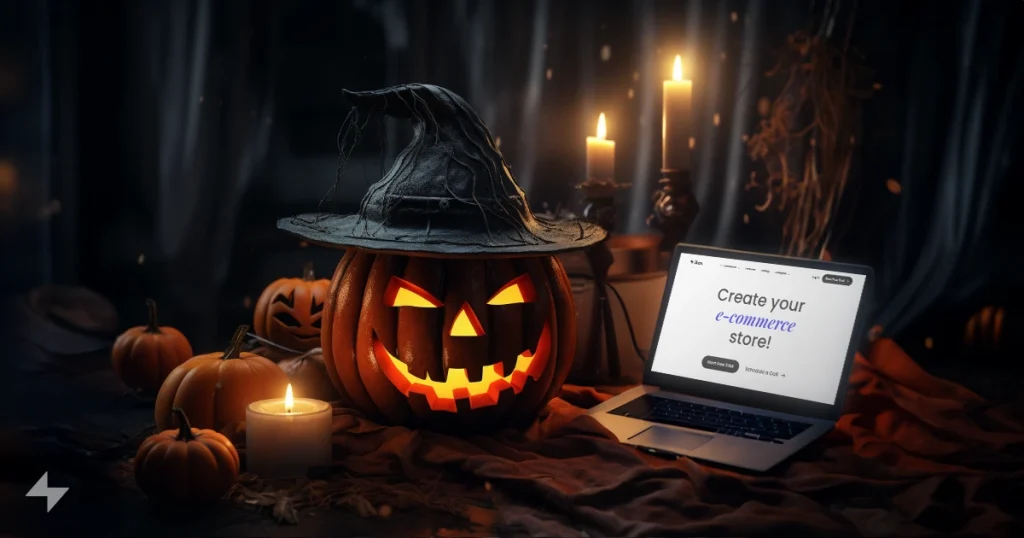 What is Halloween Marketing?
Halloween marketing refers to the tailored strategies and promotional efforts employed by businesses to capitalize on the Halloween-themed shopping and celebratory fervor, enthralling customers with spooky creative appeals, exclusive offers, and an immersive buying experience that harmonizes with the eerie allure of the festivity.
With Halloween marketing strategies, e-commerce websites can take advantage of Halloween-themed promotions, advertisements, and campaigns to engage more with their audience and increase sales and brand awareness in the fall season.
Halloween is a popular event in many countries around the world and is celebrated with the use of costumes and decorations. While strategising your marketing campaigns for this season, you can use spooky-themed content on social media, blogs, and e-commerce websites.
By integrating Halloween elements such as pumpkins, ghosts, and witches into the creative campaigns, e-commerce websites can improve the customer interest and engagement of their audience with their brand and products.
Why Halloween Marketing is Important?
E-commerce websites should engage in Halloween marketing to boost their seasonal sales and revenue, especially in the Western hemisphere. According to Statista, consumers spent $10.6 billion for the Halloween season. This is an all-time high record, surpassing last year's record of $10.1 billion.
More than 30% of Millennials invest more money in Halloween activities than any other secular holiday. This holiday holds a special place in the hearts of Millennials, and they are particularly inclined towards sharing their Halloween experiences on social media. Nearly half of them buy items specifically to showcase on their online platforms during this holiday, presenting brands with an excellent chance to naturally expand their reach.
During the Halloween season, consumers prefer purchasing candies, decorations, and costumes.
Halloween marketing can also capture the attention of consumers; this increased brand visibility may help brand awareness for the target market of the brands. As Halloween marketing strategies encourage creativity, with challenging but unique campaigns, it is possible to connect with the audience on a more emotional level through Halloween-related social media content, and relevant promotions.
The Benefits of Halloween Promotions for Your Business
Halloween promotions may bring various benefits to the sales. Utilising Halloween-themed deals and offers, it is possible to foster a sense of community and loyalty in customers who wish to take advantage of seasonal bargains. This leads to the connection between the brand and its current customers to strengthen.
Moreover, with the help of Halloween content, a brand can interact with a target audience who usually does not prefer purchasing their products.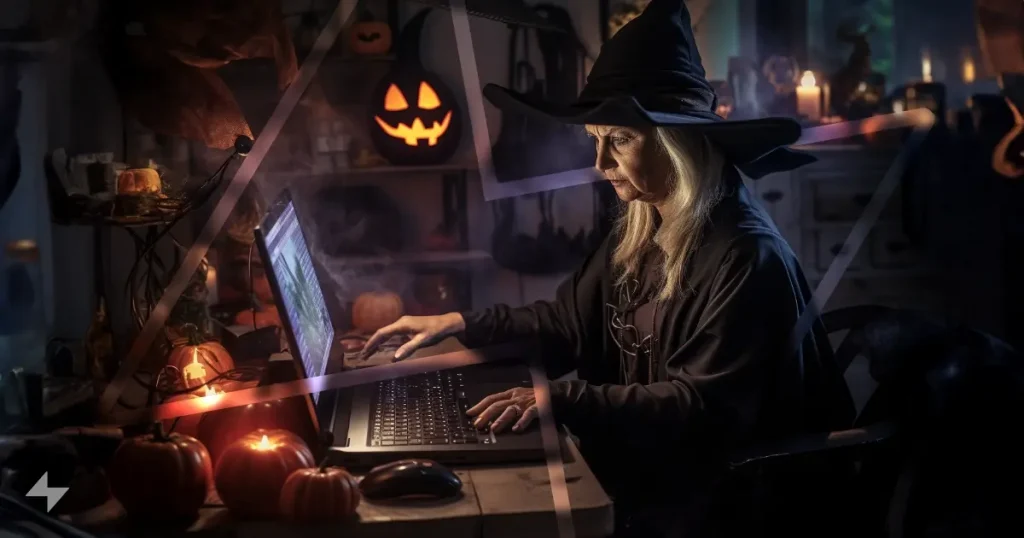 Top Halloween Marketing Ideas
Halloween-themed Social Media Posts
Halloween is a great time that should not be missed to post creative social media posts. As an e-commerce brand, do not be frightened to be as creative as possible! This is one of the most fun days of the year. Your sincerity would have a positive impact on your audience.
Moreover, social media is a great source of inspiration for all consumers, especially Gen Z, 98% of whom use social media platforms for shopping inspiration.
Engaging social media creatives that align with the Halloween themes leads to higher follower engagement and more sales. It is possible to create Halloween-themed contests, costume photos of your employees, or team members, spooky stories or urban legends, pumpkin carving contests, DIY decorations, polls, and quizzes, fun facts about Halloween, customer costume spotlights, and mystery giveaways. Featuring these social media ideas with specific Halloween hashtags would increase your reach.
Halloween Email Campaigns
Email campaigns are one of the best ways to announce your promotions and messages about your products.
With the use of attention-grabbing subject lines unique to Halloween, and eye-captivating Halloween images, your customers would be attracted to your purchasing your products during the Halloween season.
As with all email campaigns, it is important to make the emails trackable to analyze the open rates and conversion rates for future reference and mobile optimized so that anybody can access them using any device.
Creating a Halloween-themed Landing Page
A Halloween-themed landing page with spooky visuals, and compelling headlines would help boost the sales. The landing page can also be strengthened with limited-time offers that have simple messages so that all the customers can easily continue the purchase process.
As always, be careful that the landing page is fast and mobile responsive to create a focused, engaging, and conversion-driven user experience.
Halloween-themed Contests
When one thinks of Halloween, pumpkin carving, costumes, DIY house decorations, and trick-or-treat activities quickly come to mind. To engage with your customers who will already have fun during the holiday season with these activities, it is possible to organize social media contests that feature these fun events.
Using social media posts, hashtags, email campaigns, influencer collaborations, and paid advertising, you can announce your contests so that the target audience can easily participate. If possible, you can also give special prizes to the winners.
Fall Merchandise Discounts
For many customers, Halloween equals the fall season; therefore your brand can also adapt itself to the needs and desires of your target audience with special discounts.
Luckily, there are a great number of alternatives for the fall season like fall clothing items such as sweaters, jackets, scarves, boots, and cozy flannels, fall decorations like fall-themed decorations, home goods, and accessories like pumpkin-themed tableware, autumn wreaths, and cozy blankets, fall-inspired food and beverages like pumpkin spice lattes, apple cider, or seasonal snacks, outdoor gear such as camping equipment, hiking boots, or gardening tools and many more.
Especially emphasizing the urgency of your discounts by labeling them as "Fall Flash Sale" or "Fall Clearance" you can highlight the limited availability of these offers and expedite the sale process.
Halloween-themed Videos and Blog Posts
Videos and blog posts are crucial to connect with the current customers and the target audience. Halloween-themed makeup or recipe tutorials, DIY craft videos, and how-to videos on carving pumpkins would help you showcase your products.
Do not forget to also promote these videos and blog posts with the help of email campaigns, paid advertising, hashtags, and influencer marketing.
Cross-Promotion on Your Site
To boost sales, and increase customer engagement, different cross-promotion strategies can be utilized. For example, suppose you are selling a pumpkin spice mix product. In that case, you can integrate a pumpkin spice latte recipe using blog posts, social media posts, and videos to complement the product.
In addition, cross-selling and upselling techniques might be quite useful to promote related or complementary items to your visitors. With cross-selling, it is possible to display different product options to your customers who are already in the midst of purchasing related other products. Taking advantage of special discounts that you are providing, these customers may prefer purchasing some of the products you are suggesting as well.
Moreover, with upselling, you can provide your customers with upgraded products or services at discounted prices.
Hosting a Halloween Event
A Halloween event would enhance social interaction between the brand and the customers, as well as create a sense of community.
During the in-person or online event, trick-or-treating activities can also be organized to provide customers with a fun getaway. This festival-like event can even be embellished with candy stations, trick-or-treating activities for children, contests, prizes and giveaways, costume contests, haunted houses, DIY Halloween workshops, storytelling sessions, interactive games, and pumpkin carving stations.
With a costumed staff in addition to all of these, such an event organized by your brand will be memorable, surely for a long time! To build excitement and anticipation, plan your social media posts, and reminders long before the event!
Running Halloween-Themed Ads
Halloween-themed ads specifically designed and optimized for Facebook, Instagram, YouTube, Pinterest, Google, and TikTok, would help an e-commerce website to sell more products and build better brand awareness.
Integrating Halloween aesthetics into your advertisements, like unique colours, motifs, and backgrounds, in addition to high-quality images, special Halloween fonts, and limited-time offers, would help maintain the consistency of your Halloween marketing strategies.
Doing Good in the Community
As the fall season is traditionally known for charity activities, why not be a good witch this Halloween and direct your marketing efforts to a worthy cause? Aligned with your company's values and mission, your cause can be about supporting education, healthcare, environmental conservation, or local charities.
With the help of volunteer programs and employee participation, it's possible to create your own community outreach initiatives and organize educational workshops, donation programs, mentorship programs, and sustainability efforts.
While planning your giving back strategies, especially focus on transparent reporting, as well as storytelling and social media awareness tactics to announce your efforts.
How to Plan Your Halloween Marketing Campaign
Setting Goals
Setting clear and specific goals is the crucial first step for a successful Halloween marketing campaign. Encompassing all of your other goals, the primary objective of your campaigns should be determined. The primary objective may vary from increasing sales to brand awareness, or from a higher website traffic to the engagement with the audience.
With the SMART goal-making criteria, Specific, Measurable, Achievable, Relevant, and Time-bound goals could be designed and implemented. SMART goals also help the objectives to be more quantifiable and measurable so that they can be broken down into smaller, actionable tasks with more trackable metrics such as website analytics, social media engagement, email click-through rates, and sales data.
Tasks can also be divided into different steps in terms of their hierarchies of importance, feasibility, and timeframe.
Budgeting
Another important aspect of the Halloween campaigns is allocating the budgets according to the objectives of this significant marketing season. The budget includes all campaign-related expenses, including advertising, content creation, design, and any additional costs like employee costs, influencer collaborations, email marketing, and promotional materials.
Setting a certain budget and following through it should be the first step before planning Halloween marketing campaigns. During this time a contingency fund for unexpected expenses should also be allocated.
After carefully evaluating the past or similar campaigns of previous years as well as benchmarks from the sector and considering the return on investment value of your expenses, it is possible to prioritize marketing campaigns in terms of their spending amount and the return value.
Timeline
As it's never too early to announce your Halloween campaign, it is possible to start as early as September begins and run it through October.
While planning your campaign timeline, it's best to identify key milestones and the content calendar including the date of the campaign kickoff, deadlines, and different days for sharing the content.
While executing the timeline, it's significant for team members to coordinate the tasks and prioritize the activities according to their level of importance.
Tips for a Successful Halloween Campaign
As with all the major marketing campaigns, planning strategies as early as possible should be the main step for a successful Halloween holiday period. Ideally planned at the beginning of the year, a Halloween campaign with clear goals, and a special theme that you chose for the holiday would help you create engaging content along the way.
Halloween is a great time to be creative, yet there should still be some limits. While creating your content, always keep in to be sensitive to your audience, and avoid using offensive language or potentially upsetting content. Instead, choose to leverage fun visuals and wordings that resonate with your brand identity and products as well as the values and interests of your audience.
One of the best ways to implement your strategies is to learn from the previous campaigns. Paying attention to customer feedback and analyzing the post-campaign metrics would be advantageous for the next campaign cycles.
Implementing Your Halloween Marketing Ideas
A carefully planned marketing plan with specific goals, target audience, timeline, and strategy leads to creative Halloween-themed content such as blog posts, social media posts, videos, email newsletters, and visuals that resonate with the audience.
Throughout the holiday period, keep responding to the comments, and messages of the audience members to have an engaging conversation and a successful campaign.
Branding Tools
Before delving into focusing on special creatives for Halloween, it is significant to build a consistent brand identity with a resonating logo, style guide, and website.
Various branding tools may also help the social media management of a brand during this busy season. For example, social media management platforms such as Buffer, Sprout Social, and Hootsuite allow easy scheduling and publishing of social media posts, as well as easy analyzing of the results.
To seamlessly create social media posts, it is possible to take advantage of social media creation tools such as Canva, and Adobe Spark that offer pre-designed templates.
For customizable email templates, inbound marketing strategies, and customer management, services like HubSpot and Mailchimp might be used.
Tracking Success
Tracking the success of your Halloween campaigns is crucial for optimizing the Halloween marketing efforts of the next year. Monitoring the website traffic, click-through rates, conversion rates, social media engagement, and the reach of your Halloween posts, tracking likes, shares, and comments is essential to analyze the effectiveness of Halloween discounts or promotions and the overall success of the period compared to your specific goals.
To effectively track the success of the Halloween period, various tools such as Google Analytics, Facebook Insights, Twitter Analytics, Instagram Insights, HubSpot, Hotjar, and SEMrush can be used in combination to comprehend the shortcomings, opportunities, and strengths of the sales, social media results, email marketing results, customer interactions, paid ads, and the SEO performance.
Successful Halloween Marketing Campaigns
Some of these successful Halloween campaigns may inspire you:
Since 1950, UNICEF has distributed its iconic orange boxes to children on Halloween to collect donations while they go door-to-door for candy. In Halloween 2022, UNICEF embraced a fully digital approach by replacing the traditional orange boxes with a QR code that can be scanned from anywhere at any time. This way, throughout the month of October, people made donations, engaged on social media, gained insights into UNICEF's mission and activities, participated in virtual or physical events, and more.
Incorporating their famous special garlic sauce with the vampire myths, Papa John's introduced a special talisman necklace to -supposedly- ward off evil vampire spirits. Sold worldwide through Black Feather Design as merchandise in 2022, Papa John's successfully embraced the Halloween spirit.
Collaborations between brands are always a positive development, especially when three major brands join forces. This is precisely what occurred in the 2021 Halloween season when Lego Star Wars initiated the Disney+ "Halloweenstream" event with its Halloween special, Terrifying Tales with special Halloween-themed storylines and beloved Star Wars characters.
The rivalry between Burger King and McDonald's is truly a classic and neither of the brands refrains from making a funny reference to the other. Burger King's 2017 Halloween special #ScaryClownNight has already become the epitome of the perfect Halloween campaign. Skillfully poking fun at McDonald's and its iconic clown mascot, Burger King offered a complimentary Whopper to the initial 500 individuals who came to selected restaurants dressed as clowns. The campaign video with the hashtag #ScaryClownNight was also applauded on social media.
In 2013, Pepsi added some fuel to the rivalry by playfully taunting its primary competitor, Coca-Cola. The campaign featured an image of a Pepsi can dressed in a Coca-Cola cape with the caption, "We wish you a scary Halloween." However, Coca-Cola quickly responded with humour, replacing the caption with, "Everybody wants to be a hero," ultimately having the last laugh in the playful exchange.
FAQs
What is Halloween?
Halloween or Hallowe'en is also known as Allhalloween, All Hallows' Eve, or All Saints' Eve. Halloween has a rich history spanning different cultures and religious traditions.
Halloween most likely was influenced by the Celtic harvest festivals and the Gaelic festival of Samhain which celebrates the end of the harvest season and the beginning of winter. This day, the boundary between the living and the dead weakened and the spirits could roam the earth.
Later intertwined with the Roman holiday Feralia honouring the dead, and with Christianity, Halloween or All Hallows' Eve became known as a day before All Saints' Day on November 1st to honour the saints and martyrs. 
Firstly celebrated in Ireland, and Scotland, the holiday then moved to North America in the 19th century with the Irish and Scottish immigrants, Halloween has now spread to many other countries with its engaging traditions such as costume dressing, trick-or-treating, other-worldly decorations, and parties which all also have ancient roots or religious connotations.
As it is highly linked with popular culture, people of all ages celebrate Halloween. Halloween allows people to change their appearance for an entire day and have limitless fun. Children come together and visit Halloween-themed decorated houses in costumes to receive treats from neighbors. Families carve pumpkins into jack-o'-lanterns traditionally believed to ward off evil spirits.
When is Halloween?
Halloween, celebrated on October 31st each year, is a holiday with historical roots and cultural significance.
Which Countries Celebrate Halloween?
Halloween is primarily celebrated in the United States, Canada, and some parts of the United Kingdom. However, its popularity has grown in recent years, and you can find Halloween celebrations in various forms in several countries around the world.
When Should I Start My Halloween Marketing Campaign?
To get a head start on Halloween marketing, it is important to launch campaigns as early as September. Many consumers start purchasing for Halloween by mid-September and continue throughout October and even on October 31st. Moreover, many people look for discounted Halloween items for future use in the upcoming years after Halloween.
What Should I Include in a Halloween Email Campaign?
For a fun and effective Halloween campaign, you can promote your products or services using personalized emails specifically crafted for your customers and with special Halloween-themed email templates.
Email campaigns may help build awareness of your brand and announce Halloween promotions without hassle. Do not forget to add CTA buttons to encourage actions to start shopping and countdown timers to create a sense of urgency for limited-time Halloween promotions or events.
Engaging and relevant content in your emails would also elevate the Halloween experience for your customers. Integrating with your products, you can offer Halloween-themed costume ideas, recipes, decoration inspirations, and DIY tutorials.
How Can I Measure the Success of My Halloween Campaign?
Assessing the effectiveness of your Halloween campaign might be the key to creating better content in future campaigns. Here are some of the key performance indicators (KPIs) to measure the success of your campaign:
Conversion rate: Dividing the number of people who completed a targeted action (made a purchase, signed up for a newsletter, etc.) to the total number of recipients reveals the effectiveness of the campaign.
Revenues: The revenue generated directly from the campaign. Revenue is a critical metric to assess your campaign's ROI.
Open Rate: The percentage of email recipients who opened your Halloween emails, indicating the success of the subject lines of your email campaigns.
Website Traffic: The increase in website traffic during the Halloween campaign provides insights into customer behaviours.
Social Media Engagement: Likes, shares, comments, and following metrics to indicate the audience engagement with your campaign.
Customer Feedback: Comments, reviews, or recommendations related to your Halloween campaign to indicate areas of improvement or success.
Can I Do a Halloween Marketing Campaign on a Small Budget?
Several cost-effective strategies and creative approaches can make your Halloween campaign successful without resorting to enormous budgets. Creative and thoughtful campaigns can often be more valuable than large budgets from the perspective of the customers.
Before delving into the intricacies of organizing a campaign, it's crucial to set a clear budget for all expenses.
Within the determined budget, social media and SEO optimization can be leveraged to engage with customers using Halloween-themed posts, stories, hashtags for social media engagement, and relevant keywords to drive traffic to the website. Even if you want to participate in influencer marketing, but cannot allocate a large budget, you can try partnering with micro-influencers or local influencers who align with your brand and who will promote your products or promotions in exchange for free products or small fees.
Moreover, repurposing content from the campaigns of the previous years can save time and resources.
How Can I Involve My Community in My Halloween Marketing?
Halloween is one of the most genuine celebrations of the year, making it easy for brands to connect with their customers sincerely. This allows brands to create an authentic connection and engagement with their audience. 
There are countless options to involve your community in Halloween marketing campaigns. Here are some in-person events that you can organize:
Renting tents to promote your products,
Organizing parades or festivals, and trick-or-treat events with games and activities,
Sponsoring Halloween-themed art installations,
Collecting costumes or treats for donations,
Organizing free Halloween workshops and classes for pumpkin carving, costume making, or spooky makeup techniques,
Organizing scavenger hunts,
Sponsoring local haunted houses, charity runs, or school fundraisers,
Organizing craft fairs,
In addition to the physical events, you can also try these online activities:
Organizing a Halloween decoration, pumpkin carving, or spooky story contest,  encouraging participation to share photos with a unique hashtag.
Partnering with local influencers to announce your promotions.
What Should I Do After My Halloween Campaign Ends?
This year's Halloween campaign sets the stage for future marketing efforts. Start getting ready for the next year just after Halloween ends by reviewing the performance metrics in detail to comprehend what went right and what didn't including the allocated budget and ROI.
After the campaign ends, do not forget to thank your audience for their support, engagement, and participation in your campaign efforts. Most importantly, announce and highlight the winners and the results of the contests and giveaways you organized throughout the holiday season.
Learn from the experience by requesting feedback about your Halloween campaigns from your customers and followers through surveys, polls, or social media posts.
After wrapping Halloween up, start getting ready for Thanksgiving, Black Friday, Christmas, and New Year's marketing campaigns!