What is Email Marketing? (2023 Guide)
Sena Özkurt
Content Marketing Specialist
Email marketing is one of the best methods to generate leads, increase inbound traffic and reclaim abandoned carts. It is also a great way to complement your other marketing efforts. According to Campaign Monitor, each $1 spent on email marketing has an estimated average return of $42. Every marketer would agree that a return on investment like that is excellent!
Email Marketing By The Numbers
Numbers never lie! So here are some email marketing statistics for you:
What is Email Marketing?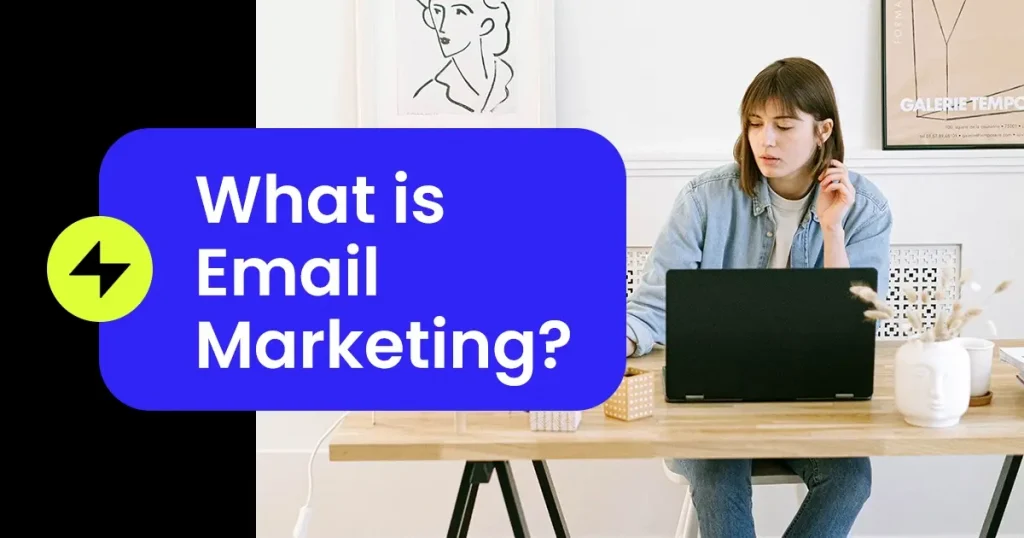 Email marketing is a powerful digital marketing tool to promote products and services or build customer relationships. It involves sending personalised emails to specific customer segments or prospective customers with relevant content, such as special offers, promotional campaigns, updates on new products, and follow-up emails.
The main goal of email marketing is to maintain existing customers by building strong relationships with them. Email Marketing also helps to target new prospects who may find your product or service interesting.
What Are the Features of Email Marketing?
Email marketing allows businesses to reach more people in a shorter time than traditional methods such as print ads and radio spots. It also has the advantage of targeting specific audiences based on their interests and preferences.
Additionally, measuring the results of email campaigns is relatively easy through tracking links embedded within the emails; this data allows businesses to optimise future campaigns and improve conversion rates.
With the right strategy, email marketing can help you achieve several objectives, including increasing sales and engagement, boosting brand awareness, generating leads, nurturing customer loyalty, providing customer support, growing website traffic, increasing referrals, and driving app downloads or website registrations. Besides, once set up correctly, it requires minimal effort and resources on your behalf because it's an automated process.
What Are The Advantages of Email Marketing?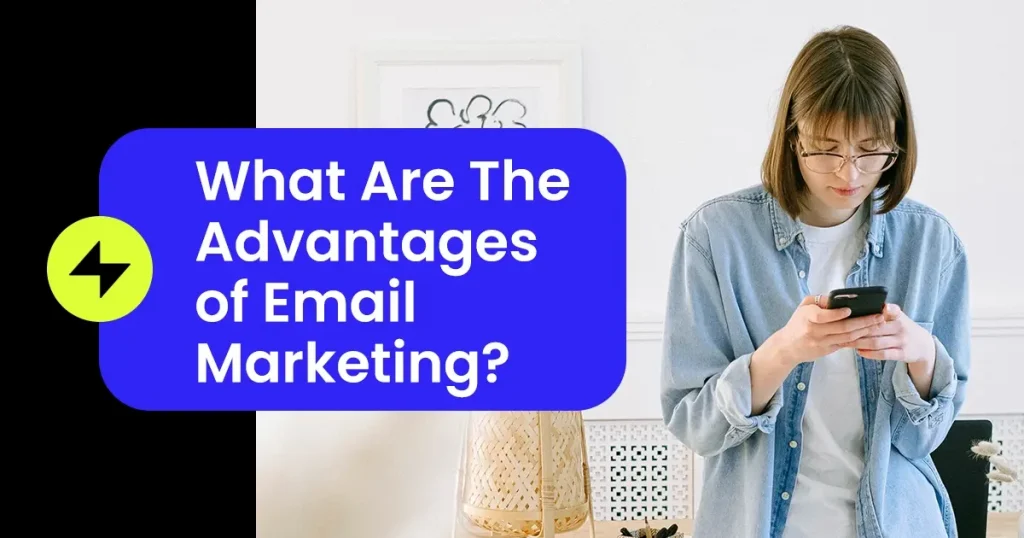 Email marketing offers numerous advantages to businesses of all sizes. It's an effective way to reach customers with the right message at the right time and has been proven to boost sales and conversions. One of the advantages of email marketing is that it's highly cost-effective and can generate a high ROI (Return On Investment) compared to other forms of marketing. In addition, marketers have plenty of data to measure success and refine campaigns over time.
Another advantage of email marketing is its ability to reach large numbers of customers without requiring significant effort or resources. Email campaigns can be quickly set up and sent out, making it an efficient way to reach large numbers of people in a short time. Additionally, emails can be personalised for each recipient, which helps increase engagement and conversion rates.
Targeted messaging is also one of the key advantages of email marketing. By segmenting their audience into various categories, marketers can tailor messages around their customers' interests, demographics, and location – ensuring they are constantly sending out relevant and engaging content for each customer group.
Analytics plays an essential role in evaluating the effectiveness of email campaigns. Marketers have access to powerful tracking tools that provide detailed insights such as open rates, click-through rates, unsubscribes, and many more. These tools provide them with actionable information about how their campaigns are performing so that they can adjust accordingly for the future.
What Are The Disadvantages of Email Marketing?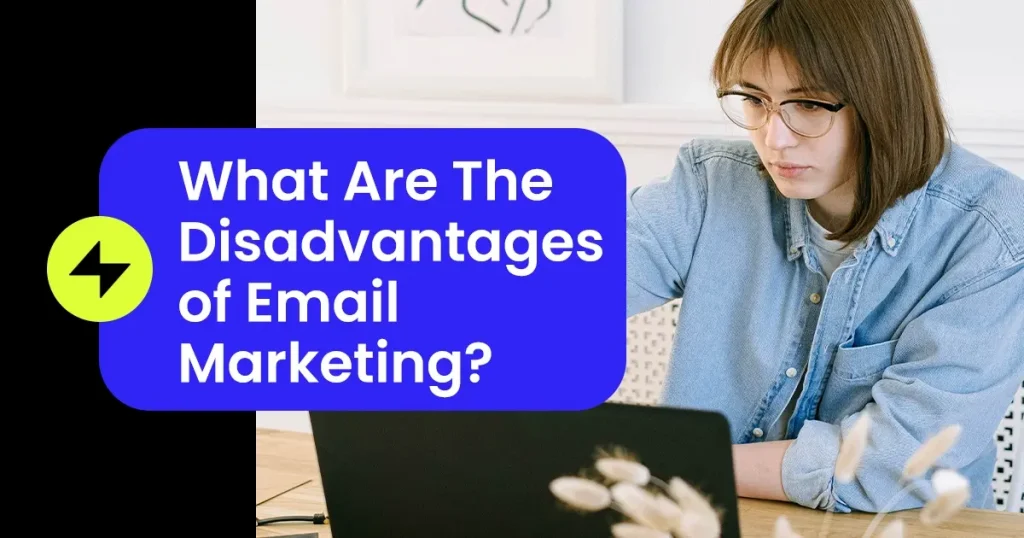 As one of the oldest forms of digital marketing, email marketing remains a popular and cost-effective way for businesses to reach their customers. However, some disadvantages can limit the effectiveness of email campaigns. In this article, we'll explore some of these potential issues so that you can be aware of them when planning your email marketing strategy.
One disadvantage is that it is often difficult to measure the effectiveness of an email campaign. This is because emails are not always trackable, readers can easily fake clicks, and open rates might be inaccurate. Additionally, some users may unsubscribe from emails or mark them as spam which can reduce the impact of your marketing efforts. Furthermore, emails have a limited shelf life and cannot be reused once sent out.
Another issue to consider is that if you send too many emails in a short period of time, you risk making your list get tired of your campaigns and potentially unresponsive to future emails. It's essential to keep an eye on open rates and response levels to ensure that recipients aren't ignoring your message. Additionally, if your target audience is spread over multiple countries, then there might be language barriers that could prevent them from understanding the content of the email.
Lastly, while you may have captured people's contact information voluntarily when they signed up for a mailing list or subscribed to a website newsletter, this does not guarantee that they are interested in the content you are sending them. Without segmenting your list properly and creating relevant content for each group of users, users can quickly get bored and unsubscribe. Therefore, it's essential to personalise messages as much as possible to increase relevance and engagement with each user.
Email marketing is still one of the most effective ways for businesses to reach their customers – but there are certain disadvantages that should be considered when planning an email campaign strategy. By considering all factors carefully, businesses can maximise the success rate of their email campaigns and ensure maximum engagement with their target audiences!
What Are The Types of Email Marketing?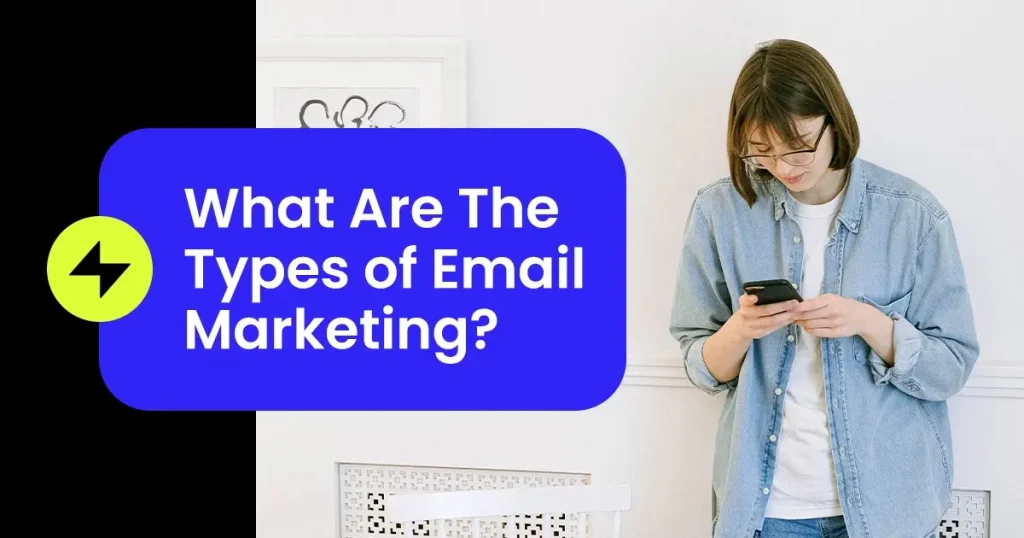 Email marketing is a powerful way to reach potential customers and engage existing ones. There are many different types of email marketing, each with its advantages and disadvantages. Which type of email you use will depend on your audience and goals. The email you send to the new customers will be much different than the one you send to repeat customers. And an email to generate leads will be different from one written to increase customer loyalty.
Here are some of the most common email marketing formats, along with examples to help you decide which approach might help your business.
Newsletters
Newsletters are one of the popular forms of email marketing. They provide subscribers with regular updates on new products and services, upcoming events, or other newsworthy information related to your business.
Newsletters can also showcase customer success stories or highlight some of your offerings in greater detail. For example, an e-commerce store might use newsletters to feature special promotions or products that align with its customers' interests.
Abandonment Emails
These emails are triggered by an action your shoppers started but did not complete. For example, when a customer adds an item to their cart but leaves before completing the purchase, you can send them an email to remind them about the item they left. Or you can instantly offer a discount to entice them further!
Announcements
These emails inform subscribers about significant developments such as new product launches, website updates, or corporate milestones. Announcements allow businesses to promote their brand identity and build brand loyalty by keeping customers informed about what's happening in their company. A restaurant might use announcements to inform subscribers about upcoming specials or new menu items.
Welcome Emails
Welcome Emails greet your customers when they first sign up! The first time a customer signs up to your website, they are usually not business ready. You need to start building trust with them right away to turn them into converting, buying shoppers. A welcome email is a perfect tool for this! You can craft an email welcoming them to your online store, and you can even offer a coupon or a discount to entice them even further!
Special Offers
These emails are a great way to drive sales and generate leads through email marketing campaigns. These emails usually include discounts, free shipping codes, promotional codes for specific products or services, or other incentives designed to encourage people to purchase from you. For example, a clothing retailer might send out special offers encouraging subscribers to buy items during winter when they're likely looking for warm clothes and accessories.
Review Emails
These emails are used for asking your previous customers and contracts to provide a testimonial for your business. Social proof can be great in order to build trust with new customers. They show that other people tried your services or products before and were satisfied with the results. Sending review emails gives you a way to create customer testimonials.
When deciding on the correct type of email marketing for your business, it's essential to consider your goals and target audience before choosing which approach would work best for you. You may find that several strategies – such as newsletters combined with special offers – can help you achieve better results than relying solely on one method alone.
Email Marketing Tips to Create Better Campaigns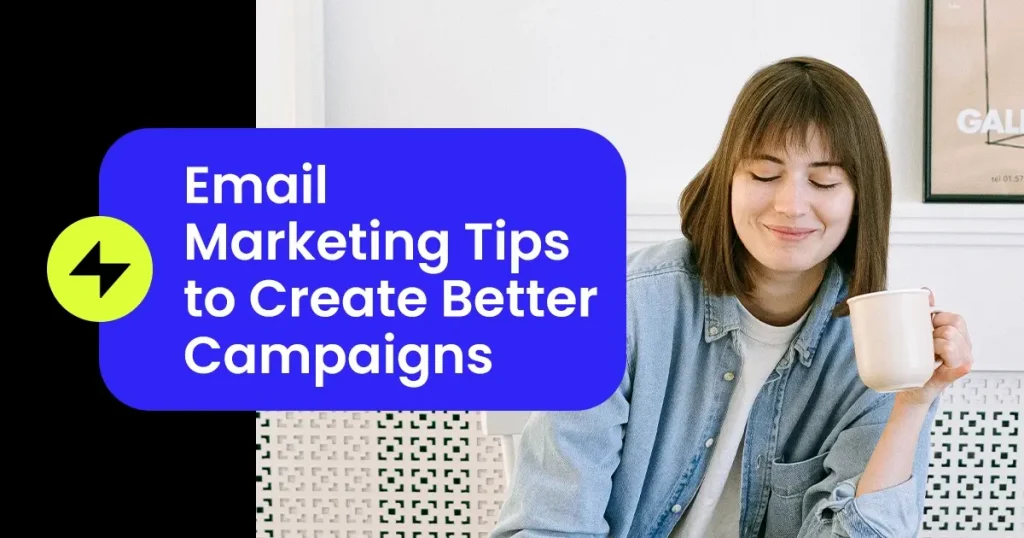 Appealing Design
Visuals have always been great marketing tools, and there is no reason to exclude them from your email marketing effort! You can create a visual that summarises your message, or you can give the main pointers of your offer.
While designing visuals for your emails, try to restrain yourself. One visual clearly describing the message is usually enough. Using too many visuals might distract your recipients from the real message. Short and concise is the name of the game, both for your copy and visual!
Keeping The Email Size Small
Email marketing can be an effective tool to promote your brand or message – however, there are essential points to consider for successful results. Email size is a critical factor in ensuring emails load quickly, and content is easily accessible by customers. Email images should be small, with file sizes suitable for quick loading. Additionally, files need to be big enough not to become unclear when the email loads. Following these tips will help ensure you achieve your desired outcomes with your email marketing campaigns.
Clarity is The Key
When launching an effective email campaign, there are three important elements: the right copy, design, and marketing list. This means paying attention to how your message is written and ensuring that it is straightforward and informative – the more clarity your readers have regarding what you're offering, the more successful your campaign will be.
Always review your email before sending it. Make sure there are no broken links or buttons and no typos. Also, avoid industry jargon! Keep it nice and simple.
Targeted Email Marketing
Sending an email to your entire list might seem like a good idea, but trust me, it is not. People on your email list will have different interests, locations, age groups, and even languages! So you should segment them according to the data available to you.
Having a well-targeted list of potential customers will ensure that every person receiving your mail is genuinely interested in your offer. Invest time in creating a powerful email campaign with a well-targeted list for a successful outcome.
How Much Does Email Marketing Cost?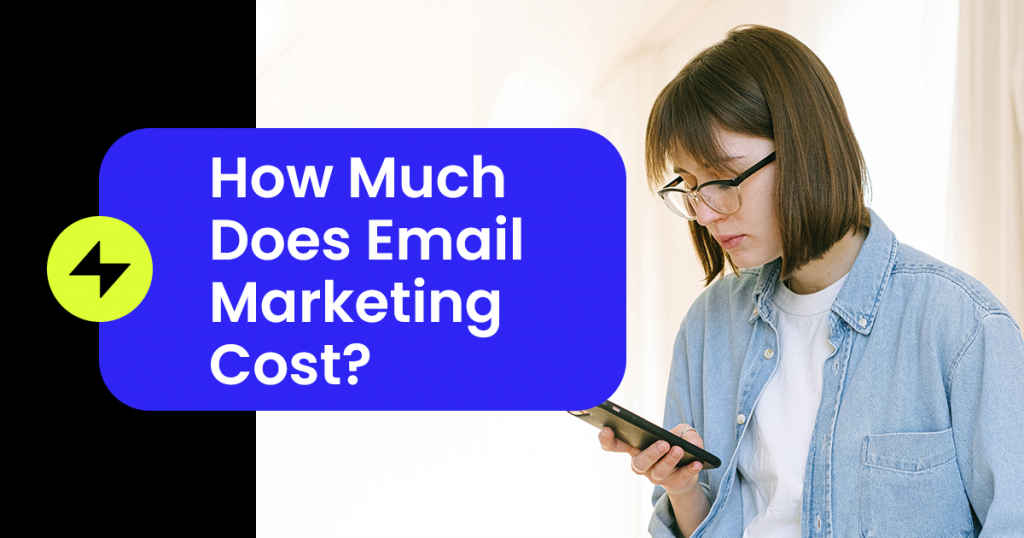 Email marketing can cost you anywhere between ten dollars to thousands of dollars. This depends on your needs and long-term strategy. If you are a business that is just starting, you can determine your needs and begin campaigns to see what works best for you and what can be added for the next ones. This is a great way to see which types of emails work for you.
Determine your budget, and do not forget to create a solid strategy before beginning your email marketing campaign. Research various sources to get ahead of your competitors and understand your needs better.
Top Email Marketing Platforms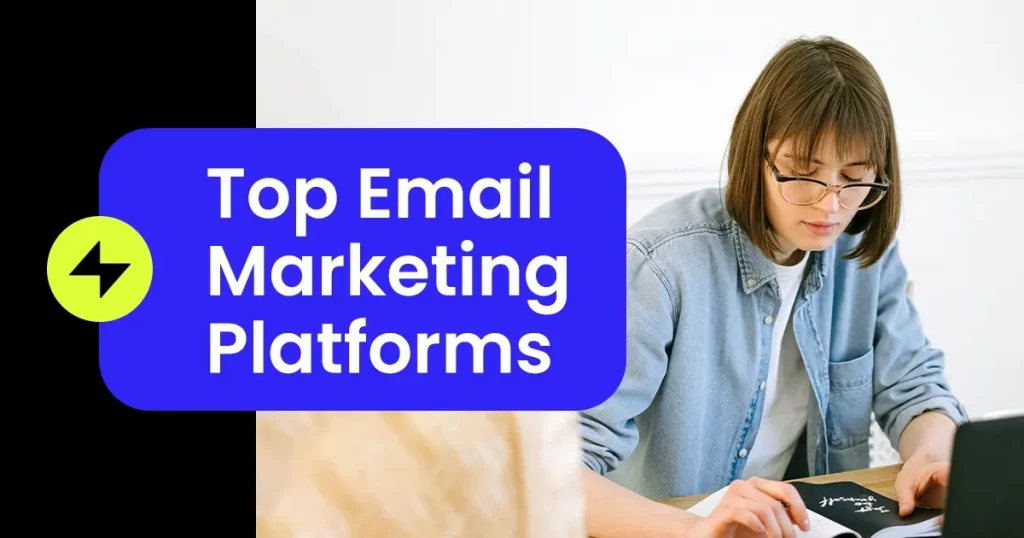 An email marketing platform, also known as an email service provider (ESP), is a platform that helps you build and manage your email list. It can also help you design your emails, automate them, and create segmented email audiences depending on the available data.
With an email marketing platform, you can automate email campaigns triggered by your shoppers' behaviours. For example, you can instruct it to send a certain email when a customer abandons a cart, exits your site without making a purchase, or bails during the checkout process.
Mailchimp
One of the most well-known marketing platforms is Mailchimp. It is best known for its free plan for users with fewer than 2,000 subscribers.
Because of its extensive free offerings, Mailchimp is a preferred platform for start-up companies and digital creators. This platform is an excellent place to start and expand if you want to experiment with email marketing strategies like segmentation, landing pages, and autoresponders.
Zoho Campaigns
One component of the extensive cloud software suite Zoho provides is Zoho Campaigns. From the ground up, Zoho powers small businesses—at affordable prices—with everything from team email, CRM, and bookkeeping to documents, spreadsheets, and HR management.
The headquarters of Zoho is located in Chennai, India, with nine international offices. It is well-liked and has recently been rapidly expanding and could be a serious rival to Google Workspace and other institutions.
Drip
For e-commerce brands, Drip provides email and SMS marketing services. It consists of pre-built automated series designed to encourage purchases through post-purchase campaigns, product discounts, and other methods such as cart abandonment reminders.
Drip was explicitly created for independent e-commerce businesses. Although it doesn't have all the features that more prominent brands or publishers would prefer, its focus on specific needs delivers all the features and integrations an e-commerce store requires.
Related Article: What is E-Commerce?
MailerLite
Almost any type of business can benefit from MailerLite's email solutions. To engage B2B prospects, integrate with an online store, sell digital downloads, and even set up a paid newsletter subscription, or you can set up automation.
Although MailerLite has features that will appeal to most businesses, it stands out from the other options on this list because of its features for bloggers and other digital creators. It is a good platform for bloggers and small media companies looking to monetise their content.
Campaigner
A team based in Ottawa, Ontario, Canada, created the traditional brand management program called Campaigner. It provides sophisticated marketing features for small and medium-sized businesses and transactional businesses.
Campaigner's advanced features work best for experienced and capable marketing teams. Individual creators or novice marketers would find the platform overwhelming because they wouldn't need the detailed features it provides.
GetResponse
With plans ranging from extremely basic and accessible to custom pricing with full marketing automation for enterprise organisations, GetResponse is an email marketing solution for small, medium, and large businesses.
Any business could benefit from GetResponse. If usability is essential to your team and a free plan sounds appealing, GetResponse might be a good fit for you. The platform provides a pleasant way to access sophisticated marketing features.
Moosend
The delightful email service provider behind well-known brands like TEDx, Vogue, and Domino's is called Moosend. Users adore the value because it offers many features at significantly lower costs than its traditional rivals.
Larger businesses frequently use Moosend, which provides unlimited email sends for all subscription tiers. The size of your audience is the only variable in pricing. If your team is just getting started with email marketing, it might be a good option because of its user-friendly interface, which makes marketing feel approachable and uncomplicated.
Related Article: What is Affiliate Marketing?
Mailtrap
Used by prestigious brands like Atlassian, Adobe, Yelp, PayPal, Toptal, and Calendly, Mailtrap is an email delivery platform that can cover all your needs. With Mailtrap you can preview and debug your emails before sending them to your customers, making sure that they're perfectly adequate for all inboxes.
Mailtrap is extremely helpful if you are encountering deliverability issues. Utilizing Mailtrap's fast and effective in-depth troubleshooting tools, you can fix unexpected delivery errors and save your emails before they end up in spam.
Email Marketing FAQs
How Do I Prevent My Emails From Going To Spam?
Proofreading your emails, Asking recipients to whitelist your emails, and getting permission before sending emails, such as creating a newsletter box on your website, would work. A well-prepared email marketing campaign will be less likely to end up in the spam folder. Getting an authentication for your brand's email is also an important step.
Proofreading your emails is essential if you want to keep them out of the spam folder. Typos and errors frequently activate spam filters.
Get the consent of your subscribers before sending them marketing emails, as this is one of the best ways to prevent your emails from ending up in the spam folder. Instead of using a pre-made email list or gathering email addresses from the internet, this entails obtaining an explicit opt-in from each contact.
Asking recipients to whitelist your email address is another way to prevent your emails from going into spam folders. Simply put, by adding your email address to their contact list or safe sender list, you can instruct their email client to stop placing your messages in the spam folder automatically.
How To Build An Email List in 8 Steps
Before you can start your email marketing campaigns, you will need to build an email list. An email list usually contains email addresses with information regarding the person who owns that email address and their relationship with your business. There are several methods you can use to build a rock-solid email list.
Before creating your email marketing plan, define your target audience, and their interests to build more personalized email marketing campaigns.
Choose an email marketing platform that fulfills your needs.
You can place embedded sign-in forms on your website to remind your shoppers to join your newsletter.
Giving incentives for your customers to sign up can be a great way to convince them. You can offer them a discount coupon for signing up for your newsletter, or you can give them special discounts!
It is possible to leverage content marketing to build your list. If you have a blog, you can ask your visitors to sign up to view some of the content.
Don't forget social media! If you are giving incentives for people to sign up for your newsletter, social media can be a great way to announce and advertise it!
Host webinars and events that require email addresses for attendance.
Encourage your email subscribers to refer family members and friends to sign up for your email newsletter by offering them further discounts.
Related Article: Social Media Marketing Tips
What is Email Automation?
The ability to send time- or action-triggered emails containing relevant information to subscribers is known as email automation. Automation helps with many marketing objectives.
Email Automation helps to stay in touch with your customers, such as sending birthday wishes that add a personal touch with a special discount code.
How Often Should I Send Marketing Emails?
According to data, sending 9–20 emails per month is ideal. The best results can be obtained by sending three to five weekly emails.
Unfortunately, the genuine strategy for your business is more complicated. There isn't a chart you can refer to; you also can't just estimate a number based on how many subscribers you have.
Some of the most popular brands can get away with sending daily promotional emails, but others risk losing their subscriber base if they do the same.
Based on the unique characteristics of your company and the quality of your relationship with your audience, you should determine how frequently you should send emails.
Finding the magic number that will allow you to communicate with people as frequently as possible without compromising the value you provide in each email is up to you.
E-Mail Marketing Takeaways
With an email marketing tool, businesses can create and send personalised emails that engage their subscribers and keep them interested in their products or services. Engagement emails are an effective way to keep your subscribers interested in your brand, as they offer valuable content that is relevant to their needs. By creating personalized emails that are tailored to the interests of your subscribers, you can increase the likelihood that they will open and engage with your emails.
Furthermore, with more and more people accessing their email on mobile devices, it is essential that your emails are optimized for these platforms.
To learn more about how you can use email marketing as a marketing channel, it is important to stay up to date with the latest trends and best practices.
Related Articles: