ikas November Update is Live!
Suhacan Başer
Content Marketing Specialist
The November update of ikas is here! This month we have added specially prepared features for our users. These features include receiving payments via a link, product highlighting in search results, product price history and more. Let's take a detailed look at the latest features of ikas without wasting time.
Receive Payments Via a Link For Manual Orders 💳
You can start an online store with ikas and manage your marketplaces and physical stores from a single dashboard.
Thanks to this manual ordering feature, you can create an order directly on the management dashboard. When you create a manual order, your stocks in your sales channels get updated, and all your reports are generated accordingly.
After creating a manual order on your ikas dashboard, you can get a checkout link to share with your customers, where they will be able to enter their necessary information. And you will receive your payment for the order.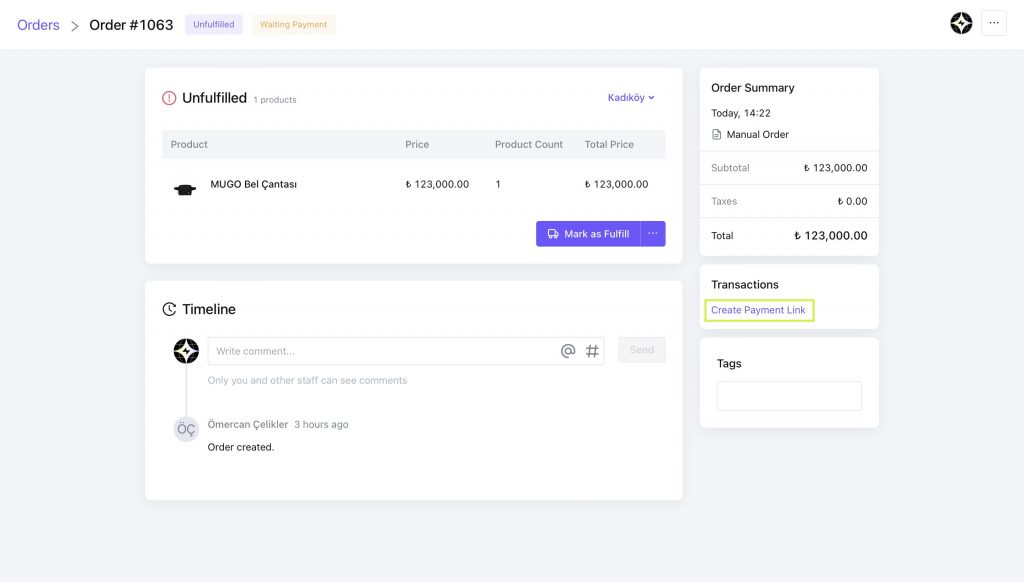 Doing this is easy! Just create a manual order from the ikas dashboard. Then you can create a payment page link by clicking the "Create Payment Link" button. When you create the link successfully, the sales channel of the order will change from manual order to the sales channel of your online store. When the payment goes through by the customer, you can filter this order as a manual order again. If you want to close the payment link, click the trash can icon next to the "Edit Payment Link" button. By clicking it, you can close the payment link and change the sales channel back to manual order. To use this feature, it is essential that you remember to get the theme update in your theme settings.
Product Price History 📊
Employees within your business can perform operations on a single account with certain authorisations, thanks to ikas.
The authorisations will improve considerably more in the upcoming updates.
In addition to employee accounts, we have users utilising different ERP integrations.
Stock Movements within the product help you determine by whom and after which transaction the stock has changed. It also allows you to find when it happened.
Furthermore, you can now see who or which integration modified the product's price from the "Price History" page by clicking the three dots on the upper right corner of the product detail page. You can also check which list the prices are from on this page.
Ability to see the number of stock in shipment 🚚
With ikas, you can manage multiple store locations and assign these stock locations to different sales channels.
In addition, you can add the products you receive from your suppliers in ikas and transfer stocks between stock locations.
For example, you have two stock locations defined in ikas. One of your stores is in London, and the other is in Bristol. Let there be 110 units of your product in London and 0 units in your Bristol store. When you enter a stock transfer to transfer ten products from your London store to your Bristol store, the stock amount in your London store decreases from 110 to 100, while Bristol remains at 0. These ten stocks appear as pending shipments unless you enter the stock transfer detail and accept the goods for the Bristol store.
Thus, from the "Inventory" section on the product detail or product listing page, you can see which stock transfer or order you are waiting for from the product's own page.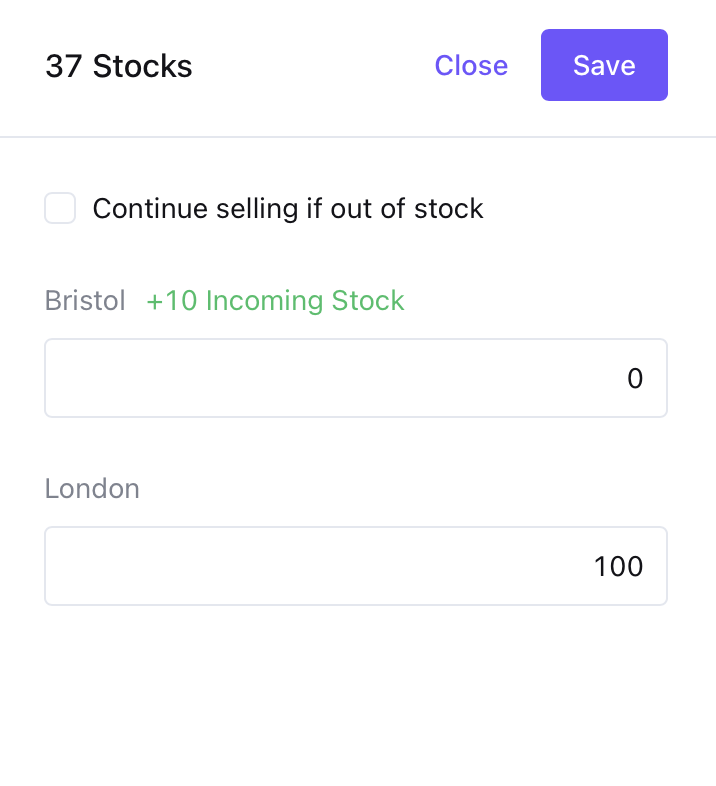 Ability to Intervene in Search Results 🔍
One of the most essential features of ikas is its search and filter system. Our users can filter within the scope of areas, such as brands, labels, and attributes. The speed and ease of use we provide alongside these features prove this.
The search results in ikas are sorted by default according to the search term and the algorithm.
Now, you can sort the products that have nothing to do with the search or that would appear lower in the search results.
For example, when you type "Backpack" and want a particular product to appear on the top and other products related to the search to appear below this product you have chosen.
Thanks to "Search Suggestion", you can easily ensure that the products you want will appear for specific keywords.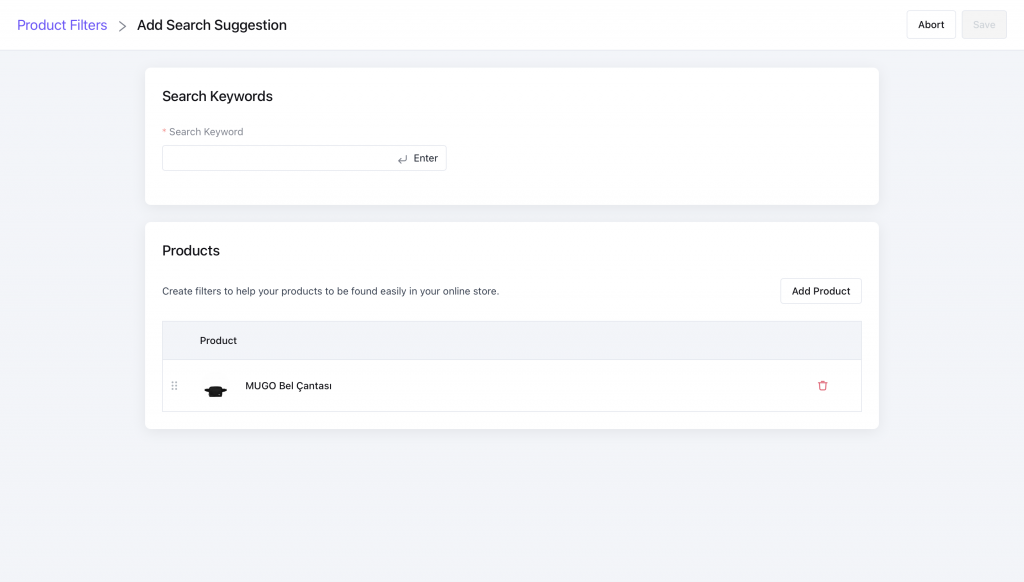 Information on how many orders the customer has ↩️
With ikas, when you have a new order, you are able to see if it is your customer's first order from your website on the order detail page. You are also able to see the orders they have previously placed on the same page if they are a returning customer.
With the new update, you can view this information on both registered and unregistered purchases of your customers.

Product/Variant Attributes Import and Export 👊
You might be selling products with variants such as shoe size or colour. For example, variants such as red, blue, and black may have attributes independent of each other, or there may be attributes such as gender or season that cover all variants. Until our last update, you could define filters by entering these features into the system. Now, you can edit the custom fields of products and variants in bulk through a .csv file via Excel or Google Sheets.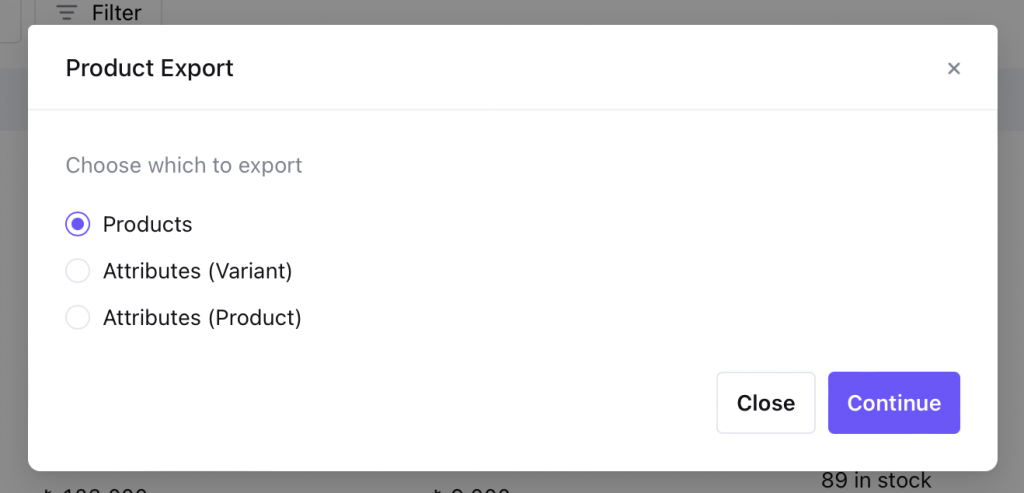 Other Improvements 🎊
The minimum basket amount feature and the option of whether the offers will be valid at the discounted price or the sale price of the product have been added to the campaign offer feature.
The process of updating and removing the discounted price of the product has been added to the bulk product editing section in the products table.
Employee and operation filter has been added to the "Store Activity History" screen under Settings.
In the "Back In Store" feature, the export feature has been added to the most wanted products table. Thus, you can see which user is waiting for which product by exporting it.
Product search feature has been added to the products table on the purchase page.
Other Features on our Roadmap ⏳
Product bundling and entering different prices for bundled products, calculating the stock of the products and the prices in the invoices separately when a bundle is sold. 🎊
Staff authorisations to be sales channel based and more detailed. 🔒
Our point of sale application, ikasPOS, is to become available on Android and iOS devices. 🙏
Printing information receipt at the end of a sale at ikasPOS. 📃
Product return/exchange scenarios will be added. 📝
Ability to customise the agreements sent by e-mail and manage the checkboxes in the theme from a single place. 🛡️
Sending a verification e-mail for customer account activation. 💌
New communication channels for abandoned carts. 🤐
Ability to ship to a specific region and enter different shipping rules into the system. 🛵
Related Article: With $3.5M in funding, we are picking up speed in Europe!