Black Friday Marketing Guide for E-Commerce Entrepreneurs (2023)
Sena Özkurt
Content Marketing Specialist
Black Friday is an exceptional shopping period during which thousands of brands and marketplaces offer unique discounts to their customers. Traditionally applied only the day after Thanksgiving in the US, Black Friday promotions usually start now before Thanksgiving and continue throughout Cyber Week.
If you wish to promote your products in an outstanding way this Black Friday season, this article on Black Friday marketing will help you transform your e-commerce website and get ready for this high-traffic shopping season.
1. Introduction
Black Friday, which marks the start of the Christmas shopping season in the United States, the United Kingdom, and Europe, Black Friday usually starts the day after Thanksgiving in the United States. The exact date of Thanksgiving changes, but it always falls on the third Thursday of November each year. Therefore, Black Friday happens on the third Friday of November.
The origins of Black Friday are often disputed, but there are few events that can be traced back to the first Black Friday. The first one occurred in the 1860s, when workers started to call in sick on the day after Thanksgiving in the US, creating an extended weekend for themselves. The second significant event that marked the date was the Panic of 1869, when a group of investors tried to control the prices in the gold market but failed, creating a financial panic, unemployment, and economic hardship for many.
Last but not least, the third event that can be attributed to Black Friday, is the heavy pedestrian and vehicle traffic happening on the day after Thanksgiving in Philadelphia in the mid-20th century. Due to all these events that can be considered as calamities, the adjective "black" has been applied to such days.
Against all its negative connotations, Black Friday is now celebrated as a period for profitability for businesses and a major shopping event not only in the United States but also in most of the world. This period witnesses large discounts, early store openings, frenzied shopping crowds, and major sales events both in brick-and-mortar stores and online.
2. Why Black Friday Marketing Strategies are Crucial for Businesses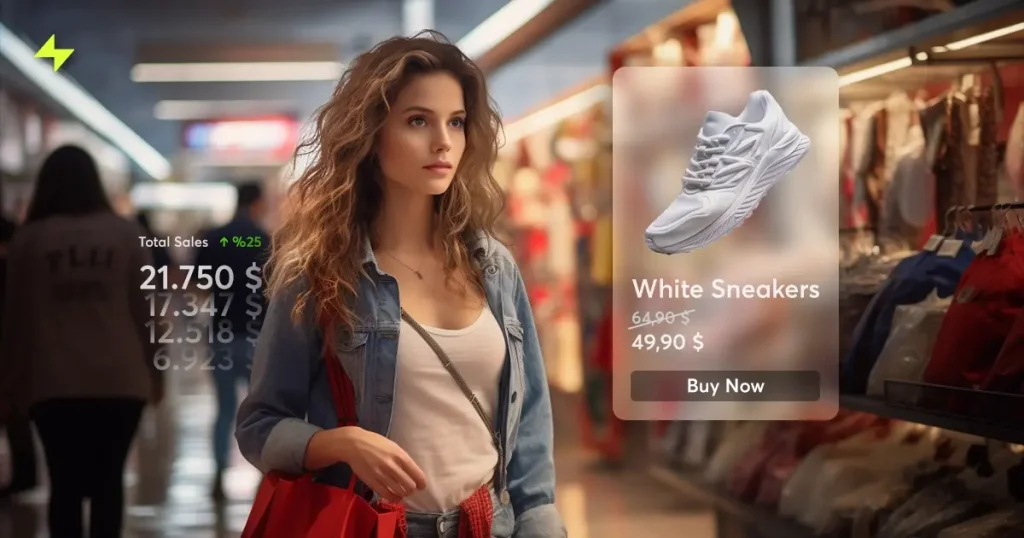 Black Friday is crucial for brand visibility in a highly competitive market. A comprehensive Black Friday strategy boosts sales and strengthens connections with customers. Here are some Black Friday statistics to convince you further about the significance of a Black Friday strategy:
Black Friday is an opportunity for businesses to achieve their sales goals, acquire new customers, and reach a broader audience before the end of the year and during a competitive holiday season. As it falls just before the Christmas and New Year's shopping holidays, most consumers would like to take advantage of attractive deals and discounts during the Black Friday week.
3. The Psychology of Black Friday Shopping
The limited-time offers and exclusive deals during Black Friday shopping can incentivize customers to purchase the intended products as soon as possible. With effective marketing strategies and using the power of scarcity and urgency, the value of the products can be perceived as even higher.
Due to the fear of missing out (FOMO) and a potential future regret during this period, customers, who do not wish to miss the rare shopping opportunities due to a product running out or being bought by others, may prefer completing the checkout processes more quickly. Emotional appeals such as compelling offers, and countdown timers as well as providing clear information, reviews and comparisons about the products, may increase the excitement and anticipation of consumers regarding certain products.
Customers would also like to feel a certain sense of satisfaction and achievement that arises after the purchase is completed, with the understanding that they purchased products at a lower price than during a regular time period.
4. Black Friday Planning for Success
4.1 Branding and Positioning
For a successful Black Friday plan, defining unique deals for your e-commerce website could be the first step. In order to craft effective campaigns, a focus on various customer segments and buyer personas would be helpful for customized offers in accordance with their specific needs and preferences. Utilizing personalized email campaigns and social media content that speaks to their interests, with the additional use of targeted advertising, would convert potential buyers into actual buyers.
To make a difference among your competitors, a compelling narrative that emphasizes the brand story, and mission, as well as the quality and reliability of your products and services, should be crafted. In addition, an angle on why this Black Friday is special should be carefully planned with clear messaging and using the most effective communication channels.
Additionally, a special focus on unique selling points (USP) that include exclusive discounts, special bundles, early access for loyal customers, and/or exceptional customer service may help you outperform your competitors.
4.2 Messaging and Communication
All of your messages about your Black Friday deals should be consistent with your current branding strategy, including your social media posts, email newsletters, website banners, and advertisements. Be careful of using the same fonts, colors, and logos to create cohesive and recognizable brand imagery.
For your customers to keep your campaigns in mind, repeat key messages regularly, such as exclusive discounts, limited-time availability of the products, or exceptional savings.
Moreover, Black Friday also speaks to the emotions of the customers. By using the power of FOMO, social proof, and storytelling, a sense of excitement and anticipation could be created.
4.3 Market Research
To shape any marketing strategy, a brand should first comprehend its audiences and conduct a competitor analysis. Surveys and interviews can be conducted to define the target audiences with demographics (age, gender, location, income), psychographics (values, interests, lifestyle), and behaviors (buying habits, preferences), as well as their needs, pain points, and preferences.
For more comprehensive research, social media monitoring and feedback loops, such as the concerns and suggestions of customers, can also be considered significant assets.
By analyzing your competitors, you can also comprehend any differentiation opportunities you might have in terms of product quality, customer service, or unique features compared to the competitors in your industry. To better understand your competitors, a SWOT analysis (Strengths, Weaknesses, Opportunities, and Threats) for each competitor and a focus on their pricing strategies are essential.
4.4 Budgeting
Before delving into the intricacies of planning Black Friday campaigns, a budget should be allocated for each step, including digital advertising, PPC advertising, social media advertising, email marketing, influencer marketing, SEO, and blog expenses.
While calculating a potential budget, a comprehensive view of return on investment (ROI) would also be helpful to obtain whether the campaign budget would be beneficial while converting potential customers to actual ones.
4.5 Inventory Management
Black Friday is famously known for high customer demand. Advantageous prices may lead customers to purchase products in bulk or several products at once. To minimize overstocks or stockouts, businesses need to forecast demand and stock up accordingly before Black Friday. Through open communication with suppliers, a reliable supply chain, and confirmed delivery schedules are feasible.
A reliable returns and order management system, as well as a multi-channel integration, is also critical for correct inventory counting. Tracking the inventory in real-time would also assist in keeping the conditions of the inventory reliably. Inventory can be kept with barcodes, frequent inventory audits, safety stock alerts to prevent stockouts for best-selling products, and an ABC analysis that helps classify products into categories based on their importance and sales velocity.
4.6 Timing
Weeks or even a month before the beginning of the designated Black Friday campaigns that you planned, it's possible to create excitement and anticipation with campaign teasers, sneak peeks, countdowns, social media marketing, emails, and landing page designs.
By providing early access to loyal customers, you can even build more curiosity about your products and special promotions.
To maintain excitement throughout the Black Friday week and/or Cyber Monday week, you can also focus on organizing contests, and giveaways on social media, as well as flash sales or daily deals on your website.
It's possible to argue that by extending the campaign window, you provide your customers more opportunities to engage with your content and purchase more products.
4.7 Partnerships and Collaborations
For authentic engagement with social media followers, influencer marketing leads the way. As a brand, however, it is crucial to collaborate with relevant influencers whose audiences align with the target market of your products.
Better-quality content is also possible if influencers can be provided with early access to the products. That way, they can share genuine recommendations using creative freedom and collaborative content with their followers like giveaways, unboxing videos, tutorials, and reviews. In the meantime, the performance of the content should be tracked using tracking links or promo codes to calculate if the collaboration paid off its expenses and the time that was spent to plan the details.
A brand collaboration can also be organized to offer complementary brands, bundled deals, co-promotions, and exclusive discounts to customers so that they can take advantage of multiple deals from both brands.
4.8 Customer Experience
Like any other peak time, customers may have concerns about the products and services that need to be addressed as soon as possible to provide a seamless online shopping experience.
To minimize any problems, ensure your e-commerce website loads fast with minimal downtime and is mobile-responsive.
Simplifying the checkout process with a secure payment system and a guest checkout system would reduce the issues, especially for first-time customers.
To reduce the number of requests to customer service, add detailed product descriptions, high-quality images, and customer reviews to all of your products and keep inventory information up-to-date.
Confirmation emails, shipping updates, and delivery notifications would also help to keep customers informed and reduce anxiety about their purchases.
Even if you offer one of the best websites, however, customer service will always receive certain questions, problems, and feedback. Therefore, provide live chat support, chatbots, and phone chat support for your customers. Get ready for the Black Friday traffic with more staff members who are specifically trained for such a period.
5. Black Friday Marketing Strategies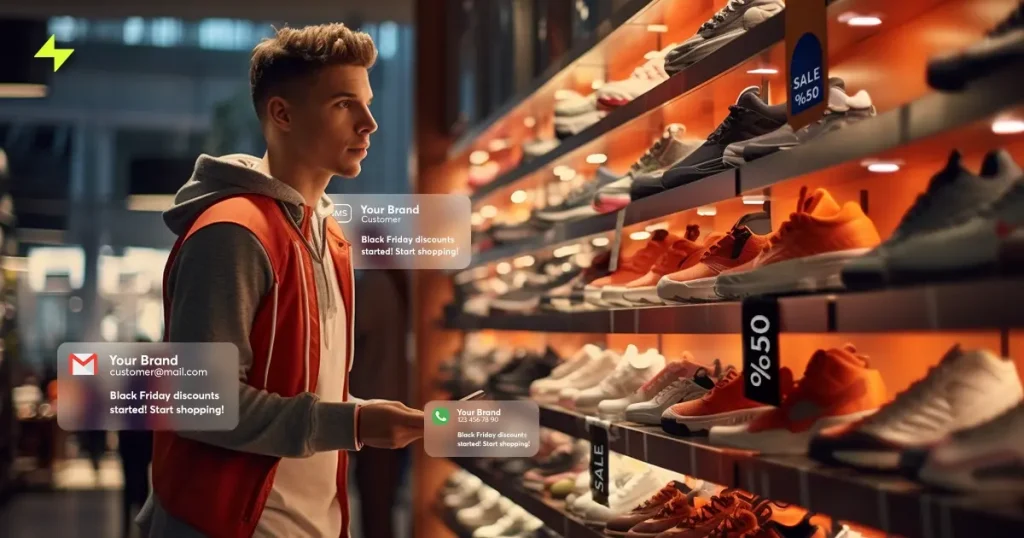 5.1 Email Marketing for Black Friday
Email marketing, first and foremost, helps e-commerce businesses maintain balanced communication with their current customers. Additionally, email marketing may help brands acquire new customers and boost sales.
As one of the direct communication channels with customers, emails are also significant during the Black Friday period to deliver the news about exclusive Black Friday promotions, discount codes, exclusive previews, countdown timers, early access offers, and sneak peeks. Routine emails about gift guides, product information, promotions, and cart abandonment reminders should also be sent for reliable communication between the brand and the customers.
Emails should also be sent with compelling subject lines and clear call-to-action buttons that are personalized and optimized for mobile usage.
5.2 PPC and Ad Campaigns
Pay-per-click (PPC) and ad campaigns would be a great boost in addition to organic search volume. Targeting high-intent keywords and specific ad groups has the potential to attract more customers who might be interested in your products. In the meantime, be careful to optimize the ad copies to highlight the Black Friday deals and discounts. Definitely add call-to-action buttons (CTAs) that mention limited-time offers to create a sense of urgency.
In addition to Google Ads, the power of Facebook Ads can also be utilized for carousel and/or video ads that will be shown on social media platforms.
5.3 Content Marketing
Blog posts about deals, including product features, gift guides, and how-to articles, offer valuable tips to your audience during Black Friday.
Recently, video content is also becoming more popular as it is viewed and shared increasingly often. Demonstration and unboxing videos, product reviews, customer testimonials, and live streamed QA sessions create brand awareness and potentially boost sales. For even more authentic versions, collaborations with the influencers can be planned.
5.4 Social Media Marketing
Different social media platforms enable reaching different audiences. For example, for a broader audience that is middle-aged, Facebook is the right tool. With targeted ads, events, and engaging visuals, posts can reach more people.
For a younger and more visually-oriented audience, Instagram is a must. With Instagram posts, stories, reels, Instagram shopping, and collaborations with influencers, your brand can be known widely.
X, formerly known as Twitter, is also another significant social media platform, especially for announcing real-time updates, flash sales, limited-time offers, countdowns, and quick announcements. Hashtags are crucial to reaching a wider audience on Twitter, as are the promoted tweets.
TikTok, as one of the rising stars of the social media world, captivates an audience interested in short, creative, engaging, yet authentic video content. Hashtag challenges are also highly followed on TikTok, and many people join challenges and follow trends while creating their videos. With the help of TikTok influencers, a fun hashtag challenge can be organized so that your target audience can also generate their own videos while promoting your products and Black Friday promotions.
5.5 SMS marketing
It turns out that SMS does not die off. SMS marketing can be a versatile tool to announce Black Friday-themed exclusive offers, personalized discounts, limited-time offers, early access offers, flash sale alerts, restock alerts, abandoned cart reminders, and order updates like confirmation and shipping notifications.
As notifications increasingly occupy the lives of consumers, SMS messages usually direct or redirect their focus to the purchase process itself. Concise and engaging SMS messages that use clear language and compelling calls to action help brands boost sales and build brand awareness.
5.6 Influencer Partnerships
Relevant influencers who target audiences similar to your brand may create authentic engagement with your brand.
While agreeing with the influencers, be honest about your expectations and goals, but also provide an opportunity for creative freedom so that they can authentically promote your brand using exclusive Black Friday unboxing videos or product reviews.
Be sure to track links and promo codes to calculate website traffic, conversion rates, and social media engagement to decide upon the return on investment value of the partnership and the future of another possible collaboration.
5.7 Affiliate Marketing
With an affiliate marketing program, your loyal customers may have the chance to earn a commission. Before encouraging the affiliates, the commission structure should be carefully organized, and rules should be disclosed. For example, the affiliates can earn a commission out of each sale that happens due to their invites, shares, or referrals. In addition, loyal affiliates may also earn exclusive discounts or early access to Black Friday promotions.
To monitor the performance of each affiliate member, make sure to prepare trackable referral codes. Payment schedules, any content guides, limitations, or exceptions should also be shared transparently with the affiliates.
Before Black Friday, encourage affiliates to plan and schedule their content ahead of the start date of the promotions and provide high-quality marketing materials in case they choose to share them at their own convenience.
Affiliate marketing is a mutually beneficial strategy, allowing affiliates to earn commissions while helping brands reach a wider audience during the holiday season.
6. How to Prepare Your E-Commerce Website for Black Friday Marketing
6.1 Update Store Design for the Holiday Season
Your brand's landing page should also be organized specifically for the Black Friday period with separated Black Friday deals, categories, or gift guides.
Visually striking Black Friday landing pages with special Black Friday visuals may also inspire visitors to explore the products and promotions.
With A/B testing different visuals, colors, and page layouts, the optimal page design for the season can be decided. This way, visitors may be converted into customers.
6.2 Optimize for Mobile
A mobile-responsive website automatically adjusts the layout and content to fit various screen sizes, including smartphones and tablets. This allows the website to function well on all mobile devices. Therefore, customers who prefer mobile shopping have the ability to purchase seamlessly.
A mobile-friendly website also has simple menus, flexible grids and layouts, finger-friendly buttons, and optimized images. These features allow the website to load faster and offer an easy purchasing experience for customers.
6.3 Update Product Descriptions and Images
Detailed, clear, and concise product descriptions about the features and specifications of the products help customers in their purchasing journeys. Do not forget to mention the unique selling points for each product to emphasize the different qualifications of the products compared to their competitors.
The use of relevant keywords also helps the SEO performance of your website, so these keywords can also be used sporadically but in a natural tone of voice.
High-quality and professional product images are also a must for impressive product pages. If possible, zoom or hover-over features may also be added to enable a closer look at the products.
6.4 Implement SEO Best Practices
Black Friday has significant keywords. After thorough research, make use of these keywords in relevance to your products, deals, and brand to be more visible on search engines. By focusing on creating informative and valuable content, you help customers and create great SEO performance at the same time.
Also, make sure that the products have keyword-rich titles that inform the customers as quickly and as detailedly as possible. Each product must also have strong and compelling meta descriptions and product descriptions.
User-friendly website navigation and mobile usability also have a significant positive impact on the SEO score.
6.5 Check Hosting Capacity and Load Time
Black Friday often brings about traffic. Surely, you have experienced high traffic in physical stores or websites during the Black Friday season as a customer and know how frustrating it can be. High traffic should be controlled to provide a better customer experience, or else customers may not come back next year.
Handle the surge in traffic during Black Friday by ensuring beforehand that your current hosting plan can handle the increased load. If not, you may consider upgrading.
Moreover, images can be optimized to reduce their file sizes. This way, websites can load faster.
6.6 Inventory Management
Another disappointing experience for customers is realizing that a product that they have been saving for Black Friday goes out of stock. To prevent this problem, popular products that usually sell each year and products that have new promotions should be stocked up before Black Friday begins, according to previous sales data and trends.
During the Black Friday period, regular inventory audits should also be conducted to track stock levels accurately and identify potential issues. With a real-time stock management system, stock levels in all of the sales channels can be automatically updated to minimize any errors.
Stock alerts and labeling products as "in stock," "low stock," or "out of stock" also help to monitor and control the demand. Communicate with your customers that discounts, promotions, and products are limited and subject to availability.
If you identify any slow-moving items, you can also consider special limited offers for them.
6.7 Simplify the Checkout Process
A single-page checkout highly minimizes any problems that customers may experience during the checkout process. Moreover, a single page loads faster. A simple layout reduces confusion and leads to more sales.
Also, offering guest checkout options for customers is a great option for those who do not wish to sign up immediately for the website. If you want to increase the number of members, however,
Do not forget to include multiple payment options for your customers, including credit and debit cards, digital wallets (e.g., PayPal, Apple Pay, Google Pay), and alternative payment methods (e.g., Afterpay or Klarna).
Display an order confirmation and summary page, and send order summary emails after the checkout process. Otherwise, customers may feel distrusted.
If potential customers abandon carts before completing the whole checkout process, potential issues should be detected to convert those sales back.
6.9: Test Everything
To make sure that Black Friday goes as smoothly as possible, test everything as if you were a user! This includes the checkout process, payment methods, shipping, mobile responsiveness of the website, loading times, touchscreen interactions, browser compatibilities, and forms.
Ensure that all interactive elements, such as buttons, dropdowns, filters, and search features, work as intended. Test the product descriptions and broken links.
6.10 Prepare for Customer Support
A brand's customer support team should be well-educated, especially in terms of Black Friday promotions, the checkout process, payment methods, and the common issues customers may encounter during this process.
With a polite and professional tone, customer support team members can provide solutions to the complaints of the customers. In the meantime, customers who have various contact options with the brand, such as live chat, email, phone, social media, and chatbots, as well as an FAQ page and self-help resources, would be more content with the services and/or products.
Moreover, the pressure on the support team can also be reduced with the help of automated tasks such as shipping and order confirmation notifications.
6.11 Analytics and Monitoring
Key performance indicators (KPIs) that can be tracked are:
Sales, revenue, conversion rates, product performance,
Add-to-cart clicks, checkout steps, form submissions,
Goal tracking: the number of completed purchases,
Traffic analysis, incoming traffic sources, referral websites, and user locations in real-time to identify trends and potential traffic spikes,
Conversion tracking,
Mobile traffic,
User flows.
Automated alerts for critical issues such as website downtime, server overloads, or unusual traffic patterns would also be beneficial to track and quickly solve the problems.
7. Black Friday Sales Tactics
7.1 Create Urgency: Countdown Timers and Time-Limited Flash Sales
As Black Friday spans a limited period, customers would like to take advantage of discounted prices as soon as possible. With the use of limited flash sales and limited stock alerts, the urgency of this period can be reminded to the customers.
In addition, countdown timers on the website, emails, and social media platforms may also accelerate the decision-making process of customers.
7.2 Bundle Deals
Bundle deals with special discounts offer a variety of options to customers before checkout is completed. Related products from specific categories can be sorted into special bundle deals. A/B testing can be conducted to determine the most effective bundle combinations and pricing strategies.
In order to purchase the bundle deals, customers should be able to clearly see how much money and time they are saving by purchasing the bundle instead of individual items.
7.3 "Buy One, Get One Free" (BOGO) Offers
If there are some products that you want to sell during the Black Friday period as quickly as possible, a "Buy One, Get One Free" (BOGO) offer would immensely help. BOGO is also useful to clear products with high inventory levels or overstocked items.
BOGO offers should be visible on the product pages, on the website, and in the promotional materials. To boost sales, BOGO offers must also include different products from a variety of categories. However, keep in mind that you should always keep track of inventory levels. Do not forget to announce to your customers that this offer will continue as long as the quantities of the products allow.
7.4 Early Bird Specials
Before the beginning of Black Friday deals, exclusive offers and unique deals can be offered to early birds. To make sure that loyal customers know about these offers, these special deals must be announced well in advance of Black Friday through the use of the landing page, emails, and social media posts.
Customers can also be encouraged to sign up for email or SMS notifications to receive alerts about Early Bird Specials.
7.5 Loyalty Program Incentives
Current loyalty program incentives can be increased with the chance of earning double or triple points during Black Friday purchases. And if a loyalty program does not exist, it is one of the best times to start one before the holiday shopping season begins!
The start and end dates for the special loyalty program deals must be specified and announced on the website, emails, and social media posts well in advance of the Black Friday period.
7.6 Free Shipping
Free shipping is always a great advantage for potential customers. Free shipping offers can cover the entire Black Friday week or weekend to reach a broader audience, but the start and end dates of such an offer should be clearly specified.
Prominently highlighted on the website, product pages, and the checkout page,
A free shipping offer can also be conditional. For example, if a customer adds a product to the cart but does not complete the checkout process, a special email that includes a free shipping offer can be sent as an incentive for the customer to return and finalize the order. Moreover, free shipping might also require a minimum order value.
7.7 Gift Cards and Vouchers
Gift cards and vouchers may lead to future purchases. To encourage gift card purchases, a bonus item or a discount can be offered.
Customers might also be reminded that buying discounted gift cards allows flexibility for future purchases in addition to being a great gift option.
7.8 Exit-Intent Pop-Ups
Those customers who are about to leave your website may be encouraged to complete a purchase with the use of exit-intent pop-ups that offer attractive discounts.
In order to use these pop-ups, an exit-intent trigger based on user behavior should be set up. The pop-up should also match the design of the website.
Pop-ups, if not used correctly, can also be disturbing, though. To prevent this, set frequency controls to prevent the same pop-up from appearing too frequently for the same user.
7.9 Social Media Exclusive Deals
You can make your loyal social media followers happy with special discount codes, promotions, or giveaways. Engaging visuals and captions about Black Friday deals generate excitement. Easy to see and use exclusive deals promoted on Instagram, Facebook, or Twitter
Experimenting with different discount values, messaging, and visuals in your social media posts may also help you identify what resonates best with your audience.
7.10 Price Matching
Price matching allows customers to purchase products for the same price on a marketplace as their competitors. This way, customers can prefer shopping at that particular marketplace instead of the competitor. Moreover, it can be applied to the past purchases of a particular customer. For example, if a customer purchases an item from your marketplace but later discovers that it was cheaper in another store, the price difference between the two might be met. This may lead to customer returns, and it can also build trust and loyalty.
In order for it to work, it needs to be easily accessible to customers, and the policy on price matching should be transparent on the website.
Based on the prices of the competitors, customer feedback, and performance data, the pricing strategy can also be adjusted.
7.11 Mystery Boxes
A specifically planned mystery box filled with various products at a discounted rate is an engaging and exciting way to connect with your customers. These boxes offer a unique and fun shopping experience.
Make sure to mention the regular retail value of the products inside the mystery boxes and make it clear how much customers are saving by investing in them.
The products inside the mystery boxes should be hidden, but they can be separated into different categories, e.g., tech, health, lifestyle, beauty, etc. Mystery boxes can be highlighted on the website, emails, and social media platforms with captivating visuals and clear wording.
7.12: Abandoned Cart Recovery
To recover the lost sales and boost revenue, relevant messages should be sent to the customers who left their carts without completing the whole purchase process. Customers may leave their carts due to various reasons.
The main goal here should be to attract customers back and convert them into customers who purchased your products. To make this happen, multiple emails with engaging subject lines and meaningful discounts can be sent.
Later, the reasons why customers left the carts should be investigated to identify and solve the problems that led to cart abandonment.
7.13 Tiered Discounts
Based on the order values, tiered discounts can be planned to encourage customers to spend more. For example, discount tiers based on order value can be created. For example, 10% off purchases over $50, 20% off purchases over $100, and so on. To eliminate any confusion, make sure to clearly define the tiers in detail and announce them on the website, social media posts, and emails.
Tiered discounts provide a gamification experience for the customers. After customers make purchases, special follow-up emails with related product recommendations and promotions can be sent to invite them to shop more.
7.14 Gamification
Gamification is not limited to tiered discounts. There are various creative options that you can take advantage of to reach audiences with gamification marketing. Games and quizzes increase engagement and the time visitors spend on the website.
For the winners of the games and quizzes, special rewards, special discounts, free shipping, and exclusive access can be offered to boost sales in a fun and interactive way. Lead the way with clear instructions on how to participate in the games or quizzes, so that customers know about the rules and potential rewards.
Also, encourage participants to share the games on social media platforms to increase further participation.
7.15 Virtual Try-Ons
Virtual try-ons are an innovative way to enhance the online shopping experience for customers and reduce uncertainty about the products. Especially useful for categories such as clothing and makeup products, virtual try-ons started during the pandemic but have increasingly become indispensable now.
Teach customers how to use the virtual try-ons using email marketing and social media. To increase usage, incentives may be offered to those who try various virtual try-ons.
7.16 Cross-Selling and Upselling
Displaying cross-selling or upselling recommendations based on the customer's current shopping cart is a great way to boost sales and the average order value. Especially if these products are offered at discounted prices, customers may have a higher chance to add them to their baskets as well.
Cross-selling displays products that are related to the items already in customer carts. Such related products, especially at the checkout stage, may lead to further sales. In order for customers to prefer adding additional items to their cart, these items should be related to their purchase history and interests.
Upselling is offering better products to customers at the checkout stage. The suggested items may sell faster if they are at discounted prices.
7.17 Pre-Order Specials
Pre-ordering leads to excitement about the Black Friday offers. One important thing is to compare the regular and pre-order prices of the products in clear language. Pre-order discounts also generate early sales and determine the level of anticipation of the customers as well as the products they demand.
Pre-order specials should be announced on the website, social media platforms, and email campaigns with visually appealing graphics to attract customers. Moreover, these deals need certain start and end dates so that customers can prepare themselves accordingly.
7.18 Limited-Edition Products
Unique products that are only open for sale for a limited time instill a sense of exclusivity in customers and boost sales during a high-traffic shopping season. Limited-edition items are highly desirable, especially if they align with the brand identity.
To drive demand, the benefits of the products should be highlighted, and excitement should be regularly generated using teasers on the website, social media platforms, and email marketing campaigns.
7.19: Black Friday Contest
With a Black Friday-themed contest, engaging and creative engagement with your community is possible. Enticing prices can also be offered for those who win the contest, in the form of gift cards, exclusive limited-edition items, or discounts.
Before organizing the contest, the rules of the contest should be clearly outlined, including the eligibility criteria, entry requirements, and deadlines. Then, participants can be encouraged to share photos, videos, or stories related to the contest, the brand, and Black Friday, and they can also vote for other participants. This allows an interactive experience to announce your Black Friday deals.
7.20 Customer Reviews and Testimonials
Encourage customers to leave feedback and reviews after making a purchase to build trust and boost credibility for your brand.
Displaying these reviews and testimonials on the website, especially on product pages, helps potential customers decide to purchase. Third-party peer-to-peer review websites like Trustpilot, Yelp, or Google Reviews would also be helpful for prestige and reputation.
Some reviews may be negative, however. These reviews should also be politely responded to, and any problems should be addressed to relieve concerned customers.
7.21 Loyalty Program
A loyalty program specifically designed for your customers is a great way to engage with customers throughout the year, including this high-traffic season. Loyalty programs encourage immediate purchases, especially if special awards, discounts, exclusive products, or double points are offered during the Black Friday period.
Mention the start and end times of the special promotions clearly and offer personalized discounts and promotions to the loyalty program members. This would make your customers feel privileged.
7.22 Dynamic Pricing
Implementing dynamic pricing helps e-commerce websites manage inventory levels, competitor pricing, and customer demand better. For dynamic pricing to work effectively, competitor pricing for similar products, inventory levels, and historical data should be monitored closely before and during Black Friday. Then, businesses may adjust their prices accordingly.
Additionally, the prices of some high-demand items can be changed from time to time so that the stocks can be emptied soon.
8. Customer Engagement in Black Friday Marketing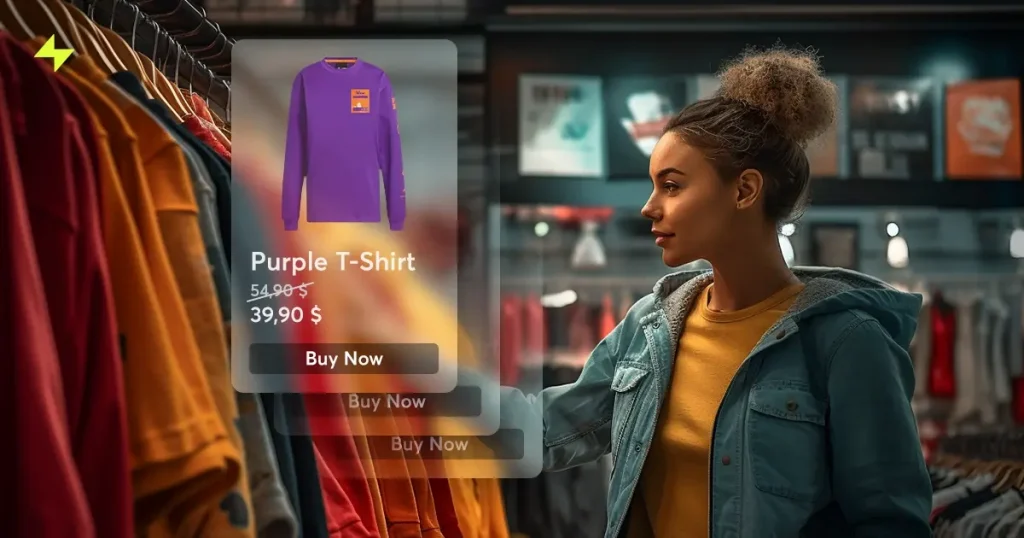 A flawless customer engagement as much as possible leads to positive shopping experiences and maximizes sales. Especially during such high-traffic shopping seasons, the customer support team should be ready to effectively respond to common questions, promotions, shipping, and returns, as well as find solutions to problems that may arise.
Live chat, chatbots, and call services help to build long-term trust between customers and brands. Train your customer support team to provide comprehensive assistance for the customers, and hire new team members if necessary.
9. Analyzing the Black Friday Performance
The success of the Black Friday period depends on several key performance indicators (KPIs), such as:
Sales revenue,
Conversion rate, the percentage of website visitors who completed a purchase,
Average Order Value (AOV),
Website traffic, including unique visitors, page views, and bounce rates,
User engagement, such as time spent on site and the number of pages viewed per session,
Customer Acquisition Cost (CAC), how much it costs to acquire a new customer,
Cart abandonment rate
Using Google Analytics, Adobe Analytics, e-commerce website analytics, and CRM systems, the success rates of your sales and potential weaknesses to improve will stand out.
10. Examples of Successful Black Friday Campaigns
Here are some of the most successful Black Friday campaigns from world-famous brands:
For sure, Amazon is the king of Black Friday with its amazing deals that span over a week. Its discounts are highly anticipated by its customers every year.
Cards Against Humanity's Black Friday parody was distinct in 2013. While every other brand was offering amazing deals, the famous board game increased its prices on Black Friday, making all of them $5 more. Announcing it as a once-in-a-lifetime promotion, the brand mocked similar deals that brands organize. Though controversial, the marketing campaign was also humorous, and the brand earned a profit of $71,145 that year.
Walmart's Black Friday deals have been going through a week for the last few years. The famous marketplace announces its deals on social media and emails with funny content and countdowns.
In 2021, Patagonia defied Black Friday and focused on anti-Black Friday ads. One of the first examples of its kind, Patagonia actively criticized the overconsumption habits of this shopping period. The "Don't Buy This Jacket" ad in the New York Times was almost like a manifesto for the brand's environmental change philosophy.
11. Online Marketplaces for Black Friday Sales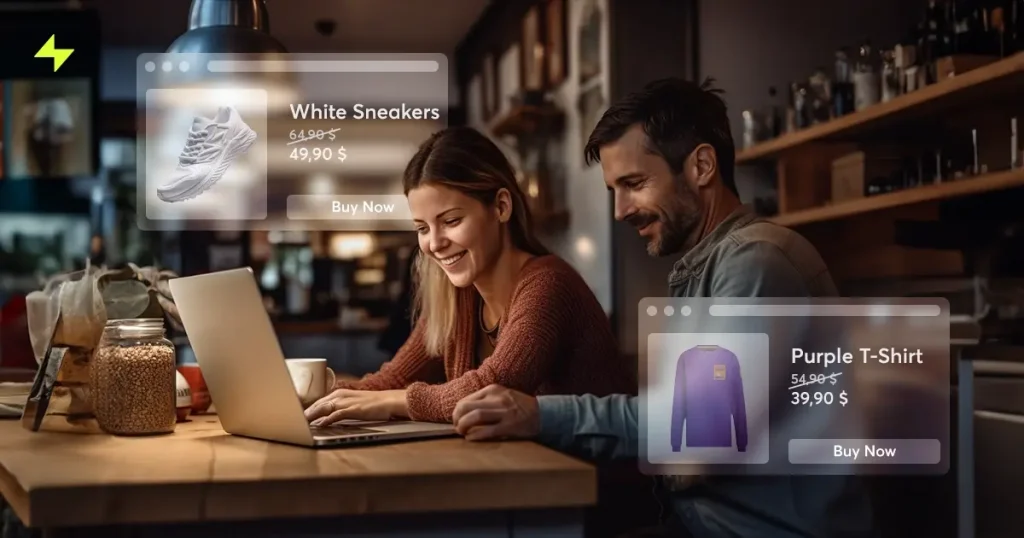 Amazon
Amazon celebrates Black Friday with a diverse selection of products, meaningful deals, and discounts. As one of the most preferred marketplaces in the world, Amazon is best known for its reliable shipping methods, excellent customer service, and user-friendly website and mobile application. Black Friday deals and promotions usually span over a week on Amazon and continue with Cyber Week deals.
In 2022, Amazon's sales increased considerably compared to 2021, with online Black Friday sales up 2.3% from last year and Cyber Monday figures 5.8% higher.
eBay
If customers are looking for rare and collectible products, new or used items, and a diverse range of products, eBay is the right marketplace! During the Black Friday and Cyber Monday periods, eBay offers special auctions and deals.
Etsy
For unique handmade items, Etsy offers a niche shopping experience. Special discounts on handcrafted goods, vintage items, and artisanal products are appealing to customers looking for unique gifts for the holiday season.
For customers who wish to support small businesses this Black Friday, Etsy is the place.
Walmart
Especially for U.S. consumers, Walmart is an irreplaceable marketplace. Starting as a physical retail store, Walmart also built its online presence steadily. During the Black Friday season, Walmart offers week-long discounts and competes with Amazon. Walmart is also highly appreciated by its customers for its pickup and fast shipping options.
Last year, Walmart also became the first choice for customers who were searching online for Black Friday discounts, surpassing Amazon.
Alibaba/AliExpress
Based in China, Alibaba's AliExpress celebrates two big shopping phenomena in November. On Singles' Day, November 11, AliExpress offers one-of-a-kind discounts on an extensive selection of products. The unique deals also continue during Black Friday.
AliExpress is also known for its international shipping options, cost-effective prices, and unique products. It is a magnificent marketplace that brings manufacturers and sellers all around the globe together.
Rakuten
Rakuten is distinct for its cashback offers, vouchers, and additional savings on more than 600 stores. After making a purchase online, you can receive cashback from that purchase through Rakuten. To earn the cashback, you need to be logged into your Rakuten account during the purchase process.
Rakuten also has a browser extension to ease the process. Offering cashback in various countries and brands, the use of Rakuten increases each year.
Alibris
Alibris is the marketplace to find rare and collectible books, textbooks, music, and movies. Especially offering a vast selection of new and used books, including out-of-print and hard-to-find titles, Alibris is a unique place for collectors. During Black Friday sales, it offers discounts and promotions on books, music, and movies.
Shopee
Shopee is Southeast Asia and Taiwan's rapidly growing marketplace that offers a wide range of deals, discounts, and promotions on various product categories.
Shopee also includes interactive features, including in-app games and live-streaming marketing campaigns. It also collaborates with brands and sellers to provide exclusive offers and vouchers to enhance the shopping experience.
Lazada
Lazada is Southeast Asia's prominent marketplace and offers exclusive deals, discounts, flash sales, and special promotions across various product categories. It also participates in Singles' Day during the festive season.
Lazada is also useful with its user-friendly website and mobile app, as well as its multiple shipping and payment options.
Lazada's "Shake It" game is also unique; within the game, users can win vouchers and discounts by shaking their mobile devices during the Black Friday sale period, adding an element of fun and interactivity to the shopping experience.
Taobao
Owned by Alibaba, Taobao is one of the largest and most popular online marketplaces. It offers special promotions and discounts on a wide range of products.
In addition to Black Friday, Taobao also offers discounts during Singles' Day. In 2022, it was visited by 527 million visitors on November 11.
Flipkart
An Indian e-commerce website, Flipkart, provides a wide range of discounts, deals, and special promotions across various product categories. Flipkart also celebrates Diwali with substantial savings
In the last few years, Flipkart has gathered attention and traffic all over the world, surpassing many U.S. retailers.
Newegg
Primarily focused on electronics and technology products, Newegg offers various discounts, deals, and special promotions in October and November. It is possible to find both brand-new and refurbished electronics on Newegg.
Newegg is also admired for its global shipping options, user-friendly website, and easy product comparison tools.
Wayfair
Specialized in home goods and furnishings, Wayfair offers substantial discounts and special promotions on a wide range of products during the shopping season.
Wayfair's Black Friday deals begin before the actual date, with up to 70% discounts on home decor, furniture, bedding, kitchenware, and more.
Wish
Black Friday on Wish spans throughout November, with up to 40% discounts. Always offering budget-friendly prices, Wish displays thousands of items.
Wish also provides express shipping options and low costs for international shipping. Known for its affordable prices, it also allows customers to purchase a range of items with considerable savings compared to other marketplaces.
Bonanza
Bonanza offers a diverse selection of discounts, deals, and special promotions across various product categories during Black Friday. It is a great place to find unique and distinctive items or collectibles at competitive prices.
Bonanza is different from other marketplaces in the sense that it displays vintage items and handmade crafts, making it a perfect place to find special gifts for the holiday season.
Mercari
Mercari is a Japanese company founded in 2013. Mercari allows customers to purchase products or sell the items they own. It also runs Black Friday discounts and deals.
In Mercari, it is possible to find almost anything, from collectible items to electronics and from handmade products to clothing.
Zalando
Zalando is a German marketplace famous for fashion items. In the last few years, Zalando has acquired record-breaking sales during the Black Friday period.
Zalando provides a wide range of discounts, special promotions, and deals on fashion items, footwear, and accessories. Customers can find significant savings on popular or luxury brands. Zalando also offers free delivery and 100-day returns throughout the year.
ManoMano
Specialising in DIY, home improvement, and gardening products, ManoMano is based in the U.K. but sells products all over Europe. ManoMano offers a wide range of discounts, special promotions, and deals on products related to home improvement, construction, and gardening. Shoppers can find substantial savings on tools, equipment, outdoor furniture, and other home and garden essentials.
ManoMano is ideal for DIY enthusiasts and homeowners looking to tackle projects indoors or enhance their outdoor spaces.
OTTO
Otto is Germany's leading marketplace. During Black Friday, it offers a wide range of discounts, special promotions, and deals across various product categories, including fashion, electronics, home goods, and more.
Otto's Black Friday deals have already started with up to 70% discounts in many categories. There are also special discounts only available for mobile app users.
Moreover, Otto provides 10 euros for new customers.
Tokopedia
One of the largest and most popular online marketplaces in Indonesia, Tokopedia offers a wide range of discounts, special promotions, and deals on various product categories. Tokopedia also offers discounts during 11.11 Singles' Day. Tokopedia also has a mobile app that eases the shopping experience.
Dafiti
Widely used in Latin America, especially in Brazil, Dafiti specializes in clothing items. Dafiti's Black Friday specials include a wide range of discounts, special promotions, and deals on fashion items, including clothing, footwear, accessories, and more.
Providing numerous opportunities to find quality fashion items at discounted prices, Dafiti also includes free shipping and easy returns.
Mercado Libre
Latin America's most famous marketplace, Mercado Libre, offers a wide range of discounts, special promotions, and deals across various product categories under the umbrella term"Blackk Friday Specials" and "Early Bird" offers. Mercado Libre's deals also include free and expedited shipping most of the time.
Like many marketplaces, Mercado Libre's promotions span an extended period. Marketplace's user-friendly website and mobile app facilitate easy navigation and detailed search filters, leading the way to customer satisfaction. In 2022, Mercado Libre recorded its best Black Friday sales.
12. Conclusion
Black Friday is a global shopping event embellished with special discounts, deals, and promotions across a wide range of product categories. Taking place at popular online marketplaces such as Amazon, eBay, Etsy, Walmart, Alibaba/AliExpress, Rakuten, and many others, it is an exciting time for customers and sellers alike.
Other marketplaces like Alibris, ManoMano, Bonanza, Mercari, and Wish also offer budget-friendly deals and substantial discounts on several categories like books, media, home improvement, clothing, and accessories.
13. Black Friday Marketing: Frequently Asked Questions
How Early Should E-Commerce Businesses Start Their Black Friday Planning?
It is never too early to start planning for such a significant shopping event. It is even better to start as early as possible. Ideally, at the beginning of the year, start the outlines of potential Black Friday campaigns and adjust accordingly as the year progresses. In the worst scenario, get ready to plan for Black Friday at the beginning of September.
Before getting into the details, define your goals and budget for the year's event and create a comprehensive marketing strategy, pricing, and promotions accordingly.
How can E-Commerce Businesses Include Black Friday in Their Annual Marketing Calendar?
Black Friday is one of the most important shopping events of the year and should hold a special place in the annual marketing calendars of most brands. Black Friday is an ideal time to connect with customers and boost sales before Christmas and the year end.
Consider other significant events you plan to partake in, such as Thanksgiving sales and Cyber Week, and determine the suitable duration for Black Friday promotions, whether it should span just one day, extend throughout the weekend, or cover the entire week.
When is The Ideal Time to Launch an Online Black Friday Marketing Campaign?
Even though the timeline of a successful Black Friday marketing campaign depends on the brand, the industry it belongs to, and the target audience,
The Black Friday campaign can start 3–4 weeks before the actual event, in early November, to build anticipation with teaser emails and release sneak peeks of the deals. Early-bird promotions would also be helpful to calculate the actual demand and build audience engagement.
Deals should be promoted 2-3 weeks before Black Friday and continue until the end of the campaign period. Pre-sale discounts should start at the same time and end before the actual start date of Black Friday deals. During this period, potential customers can also be encouraged to create wishlists and set reminders for sales.
One week before the beginning of Black Friday, start sending reminder emails, stock the products, and optimize the website for high traffic.
Finally, when Black Friday begins, the customer support team should be ready to address any inquiries or problems customers may have. To keep customers engaged, create new promotions and deals throughout the sales period and promote them consistently.
How Long Should E-Commerce Stores Run Their Black Friday Sales for Maximum Impact?
Black Friday traditionally starts at midnight after Thanksgiving and ends at midnight the next day. Recently, though, it has been extended through the weekend and into Cyber Monday next week. This way, customers may explore more deals and make more purchases.
However, if you want to focus on urgency and exclusivity, a one-day Black Friday is still a viable option.
To determine the ideal Black Friday promotion duration for your brand, monitor key performance metrics each year and test different durations to make adjustments for future Black Friday events.
When do Shoppers Usually Stop Shopping Online on Black Friday?
The behaviors of the customers depend on various factors, like the type of products they prefer purchasing, individual preferences, and geographic locations. Still, some patterns exist when it comes to Black Friday shopping. As Black Friday usually begins at midnight, shopping begins as soon as the day begins with a midnight rush or early morning shopping.
During the day, shopping accelerates in the afternoon, evening, late evening, and up to midnight for last-minute discounts.
If Black Friday spans throughout the weekend, Cyber Monday, and even Cyber Week, many shoppers will continue purchasing the products they need. Extended sales are advantageous for consumers in different time zones or who may have missed out on Black Friday.
Flash sales, limited-time offers, and additional discounts encourage customers to keep purchasing throughout this period.
What are Some Innovative Black Friday Campaign Ideas Specifically Tailored for E-Commerce Businesses?
Innovative Black Friday campaign ideas set you apart from the competition and drive engagement and sales. Gamify the shopping experience with interactive elements such as digital wheel spinning, online games, virtual scavenger hunts, hidden deals, and surprise discounts.
The power of social media can also be used with live streaming to show the products and offer exclusive flash sales, as well as social media challenges and contests to engage with customers.
A virtual shopping assistant chatbot can also guide customers through the purchasing process, provide information about the best deals, and answer questions about products. Augmented reality (AR) is also useful, allowing customers to virtually place items in their surroundings to see how they fit or look.
How are Webinars Used to Improve Black Friday Marketing Strategies?
Webinars about your products, services, and Black Friday deals educate and engage customers at the same time. Webinars allow for in-depth information and product demonstrations. They also answer customer questions in real time, building excitement and trust for the customers. Providing clear answers to potential inquiries can alleviate concerns and uncertainties, boosting sales.
The feedback and suggestions of the customers can help you refine your Black Friday marketing strategies and promotions for the next few years.
In addition to your brand, focusing on topics related to your industry can help you establish your brand as an authority in the field.
During your webinars, your customers can also engage with each other, share their experiences, and provide suggestions for getting the most out of Black Friday.
What are Some Emerging Trends in Black Friday Marketing That E-Commerce Businesses Should be Aware of?
Black Friday used to be only about a day. Now, it is extended throughout the entire weekend or week, starting before Thanksgiving and ending after Cyber Monday. Encompassing all these shopping periods, these promotions allow customers greater flexibility.
Starting with the COVID-19 pandemic, Black Friday adapted to an online-first approach; most consumers preferred completing their purchases online instead of brick-and-mortar stores. Moreover, the percentage of people who preferred shopping using mobile devices and mobile apps or through Instagram Shopping and Facebook Shops also increased. Even in brick-and-mortar stores, shopping habits are increasingly changing with contactless payment options.
Black Friday is also highly criticized for promoting consumerism. Some brands that follow sustainable practices follow a marketing strategy that resists excessive consumerism. With sustainability initiatives, your brand can make a difference by donating a portion of sales to a charitable cause or by promoting eco-friendly products.
How Should E-Commerce Businesses Adapt Their Black Friday Strategies for the South African or Australian Market?
If you are imagining winter weather when you are thinking of Black Friday, this means that you are in the Northern Hemisphere! In the Southern Hemisphere, on the other hand, Black Friday and Christmas happen during the summer! This means that businesses that operate in both hemispheres should adapt their traditions and habits accordingly. Businesses should start by comprehending the local cultures, consumer behaviors, and market dynamics.
If you sell your products in the South African market, for example, include English, Afrikaans, Zulu, or other local languages in your marketing efforts and customer service. Remember that South Africa also has its public holidays and festive seasons during this period. Also, display prices in South African Rand (ZAR) and offer payment methods such as PayFast, SnapScan, and EFT (Electronic Funds Transfer).
For the Australian market, you should again display prices in Australian dollars (AUD) and offer popular local payment options like PayPal, credit cards, and buy now, pay later services such as Afterpay. You can also promote Australian-made products or brands. Moreover, your marketing campaigns should resonate with Australian culture and lifestyle with related imagery and references to connect with your target market.
What are The Legal Considerations E-Commerce Stores Should be Aware of During Black Friday Sales?
Before offering promotions and deals for your customers in your e-commerce stores, there are several legal requirements that you should consider to comply with consumer protection laws and regulations.
First of all, be honest with your customers. Avoid false or misleading claims about discounts and products. And most importantly, do not inflate prices before offering discounts during Black Friday. This is not only unethical, but it is also becoming increasingly visible to customers and seriously hurts your relationship with them, leading to a loss of sales and reputation in the long term.
Moreover, protect customer data and privacy by complying with data protection laws such as the General Data Protection Regulation (GDPR) in Europe and the California Consumer Privacy Act (CCPA) in the United States. Legally, you are also required to display terms and conditions for your website and comply with Payment Card Industry Data Security Standard (PCI DSS) requirements.
Also be transparent about return and refund policies, shipping costs, delivery times of the products, or any potential delays due to Black Friday.
What are Some Post-Event Analysis Techniques for Evaluating the Success of a Black Friday Campaign?
Congratulations! You survived Black Friday! Now that Black Friday campaigns are over, it's time to look back at several metrics to objectively measure the success of such a significant shopping period.
Here are some of the post-event metrics that you should take into consideration:
Sales revenue: compare the total sales of the period with previous years.
Conversion rate success:
Average order value (AOV)
Return on investment (ROI)
Email marketing metrics
Website analytics like load times and bounce rates
Inventory and stock analysis:
Customer feedback and reviews:
Social media engagement:
Competitor analysis:
Abandoned cart rate:
Mobile performance:
What are Some Essential E-Commerce Tools for Managing Black Friday Sales Effectively?
Various e-commerce tools help boost sales and enhance customer experiences. Especially an omnichannel e-commerce platform that allows management of the whole operations, including fulfillment, tracking shipments, and stock levels. In addition, e-commerce platforms that also include e-mail marketing tools, integrations with other sales and marketing tools, and SEO tools increase the performance of e-commerce websites.
E-commerce tools that offer multiple payment options to customers ease and quicken the checkout process for customers. In case problems arise, customer inquiries can be solved with the help of CRM systems like HubSpot and/or live chat or chatbot integrations like Zendesk Chat or Live Chat.
Social media platforms on the website are possible to manage with social media management software like Hootsuite, Buffer, or Sprout Social. This way, posts can be scheduled and monitored to reach maximum engagement with customers.
To build trust and social proof, kindly request reviews from your customers on objective peer-to-peer review websites like Trustpilot and G2.
How can Automation Assist in Executing a Successful Black Friday Marketing Campaign?
With automation tools, Black Friday marketing efforts can be executed successfully and with ease. These automation tools save time and energy. Automation tools vary from scheduling social media posts to chatbots and from dynamic pricing algorithms to ad retargeting campaigns.
The automation tools of ikas, for example, allow automated marketing campaigns for abandoned cart reminders through e-mail marketing, automatic discount counts, and AI-based product recommendations.
Moreover, with the help of ikas e-commerce platform, multiple warehouse locations and their inventory can be managed and updated automatically and in real time.